4 Incredible Inventions Gal Gadot Could Create in a Hedy Lamarr Miniseries
The Hollywood starlet's innovations led to today's wifi and Bluetooth.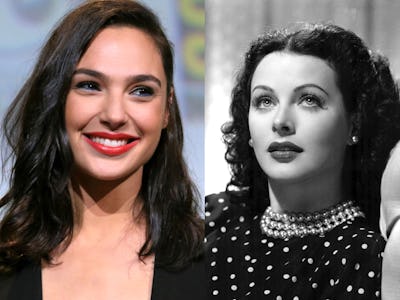 Gal Gadot has already mastered the role of DC's Wonder Woman. For her next TV project, she's looking to portray a real-life superwoman. The actress could soon close a deal with Showtime to executive produce and star in a limited series about the life of Hedy Lamarr, a '40s Hollywood actress and inventor.
Lamarr's inventions, particularly her work in radio guidance for torpedoes in World War II, led to her induction into the National Inventors Hall of Fame in 2014. Her notable film roles include Algiers, Boom Town, I Take This Woman, and Comrade X. But offscreen, the Jewish actress tinkered with everything from carbonation to what would eventually become wifi. If Israeli citizen Gadot gets the role, there are a few of Lamarr's accomplishments she could spotlight.
Traffic Stoplights
Lamarr had no formal training as an inventor and was primarily self-taught, tinkering with various hobbies that included an improved traffic stoplight design. While performing in two or three movies a year, Lamarr spent her time away from the screen in the studio she crafted in the corner of her Hollywood home, where she would tinker with existing technologies. Besides the stoplight, Lamarr was also interested in a device that would aid disabled people in getting in and out of the bath, a fluorescent dog collar, and a skin-tautening technique.
Carbonated Drinks
Another one of Lamarr's early developments was a "fizzy cube" that could be dropped into a glass of water to produce instant carbonation. The tablet, however, was unsuccessful, as Lamarr herself said it tasted like an Alka-Seltzer.
Radio Guidance for Torpedoes
Lamarr's first marriage to arms manufacturer Fritz Mandel led to dinner conversations about military technology with German Nazi generals. While Lamarr eventually escaped to America to become an actress in Hollywood's Golden Age, her interest in torpedo guidance led to the development of "frequency hopping."
Radio-controlled torpedoes could easily be jammed and directed off-course by Axis powers, so Lamarr worked with pianist George Antheil to create a miniaturized player-piano mechanism — but with radios, so that the frequency could not be tracked. In 1942, the device was patented but wasn't implemented until the Cuban Missile Crisis, when the US Navy updated the design.
Wifi and Bluetooth Technology
Frequency hopping had a number of uses beyond torpedoes. The technology worked by "jumping" the frequency across 88 different radio settings, like the 88 keys on a piano, so that the enemy could not distinguish a single frequency to jam. Echoes of the breakthrough can be seen in today's wifi and Bluetooth applications, along with cellular communication in general.
The Showtime limited series starring Gadot as Lamarr would be co-created and co-executive produced by The Affair showrunner Sarah Treem and The Handmaid's Tale producer Warren Littlefield.