Mother's Day 2018: 5 Moms Whose Inventions Changed History
Celebrate their discoveries this Mother's Day.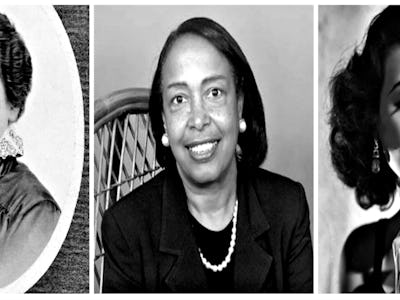 For the last 18 years, Google has released inventive doodles for Mother's Day, but in that time, many mothers have also been contributing to new innovation.
Women have played an ongoing role in the advancement of technology, science, and medicine, and yet they often go overlooked. A great way to celebrate Mother's Day is to remember some of the most game-changing discoveries made by moms throughout history. Whether it is a household product or NASA's current satellites in orbit, mothers have contributed to the innovations that impact our daily lives.
1. Yvonne Brill
As a student, Yvonne Brill left her home in Canada for California after learning that the University of Manitoba didn't allow women in its engineering department. It was Canada's loss, since Brill would later develop a satellite propulsion system for NASA that would forever change space travel. As a mother of three in 1967, she invented the hydrazine resistojet, which kept satellites from drifting out of orbit by using only one propellant. This was drastically more efficient than past concepts and has become a standard in the industry. Brill's contribution earned her the 2010 National Medal of Technology and Innovation.
2. Hedy Lamarr
Hedy Lamarr is known for her sultry portrayals in some of Hollywood's biggest blockbusters in the 1940s, but her glamorous acting career has overshadowed her many scientific contributions. At the beginning of World War II, Austrian-born Lamarr and composer George Antheil developed a radio guidance system for Allied torpedoes. She called the system, which helped the Allies avoid Germany's attempts at jamming radio signals, "frequency hopping," and its principles would later be incorporated into Bluetooth and wifi technology. In 2014, Lamarr was finally inducted into the National Inventors Hall of Fame.
3. Patricia Bath
Patricia Bath was a trailblazer in her field from the very beginning. After earning her medical degree from Howard University in 1968, she would later become the first black ophthalmology resident at New York University. Bath had a daughter while completing her residency, and less than a decade later she would invent the Laserphaco Probe, a tiny surgical device that can disintegrate cataracts from within the eyes of patients. Bath has broken ground for women and people of color throughout her career. She was the first black female doctor to receive a patent for a medical purpose and now holds four patents. She also became the first black woman to serve as a surgeon at the UCLA Medical Center and the first woman to ever serve on the staff of the Jules Stein Eye Institute.
4. Melitta Bentz
In the 19th century, the only way to get a coffee fix was by using unfiltered percolators that required scooping out the grounds or filtering them through a piece of linen. Sick of these tedious options, German housewife Melitta Bentz filed the first patent for a disposable coffee filter made from paper. She developed the design by drilling holes into the bottom of a brass coffee pot and lining the pot with blotting paper from her son Willi's school notebook. She would receive the patent in 1908, and the family's coffee filter company, Melitta, still bears her name today.
5. Joy Mangano
Before she was named Long Island Entrepreneur of the Year by Ernst and Young, Joy Mangano was a single parent growing tired of most of her home products. The first invention that put her on the map was the Miracle Mop, the self-wringing plastic mop that uses a continuous loop of 300 feet of cotton. The mop can easily be wrung without getting the user's hands wet and was a massive success in the early 1990s. Since then, Mangano has over 100 patents in her name, she's the president of Ingenious Designs, LLC, and was the inspiration behind the film Joy, starring Jennifer Lawrence.
Many of these stories reflect that adage that "necessity is the mother of invention," where women were able to develop a solution to a personal pain point, which led to solving a larger public need. However, their diverse backgrounds and fields of study show just how versatile working moms can be.