Red Skull Could Return to the MCU After 'Infinity War,' Directors Hint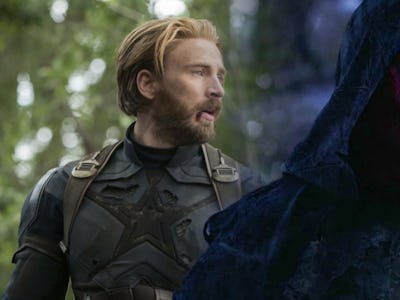 Marvel
Avengers: Infinity War brought pretty much every hero in the Marvel Cinematic Universe, but the reappearance of the first Captain America villain, Red Skull, was a totally unexpected surprise. That might not be the last audiences have seen of Johann Schmidt, though, as while the film's directors didn't confirm that he'll make another appearance, they made it clear that he's still out there, free to go after the Infinity Stones on his own.
On Saturday, directors Joe and Anthony Russo live-tweeted a digital group viewing of Infinity War, and dropped lots of interesting nuggets about the film. They answered a small, lingering question when the explained how Thor knew about the battle in Wakanda, but when they responded to a fan's tweet asking about Red Skull's fate, the prompted a whole bunch of additional questions.
Red Skull was agonizingly teleported away by the Cosmic Cube at the end of Captain America: The First Avenger, but he reappeared in front of Thanos and Gamora on the planet Vormir as the keeper of the Soul Stone — seemingly a punishment for his hubristic attempt to master one of the Infinity Stones. Red Skull administers Thanos's trial, and after the Mad Titan throws his daughter off a cliff to claim the Stone, audiences don't see Red Skull again.
In their Saturday tweet, the Russo brothers revealed that Red Skull fulfilled his duty.
"Red Skull is free to leave Vormir, and he is also free to pursue his desire for an Infinity Stone," they wrote.
Chances are Red Skull isn't going to make a proper reappearance in the MCU after this (a new actor, Ross Marquand, played the character in his Infinity War cameo appearance instead of his original actor Hugo Weaving, after all), but it's still intriguing to know that the villain is still out there, in fiction.
Presumably, this tweet is also confirmation that Red Skull was not turned to dust by Thanos' snap, and that he is still alive even after his Stonekeeper duties were fulfilled, despite being more than 100 years old at this point.