'Game of Thrones' Season 7 Script Reveals a Major Season 8 Spoiler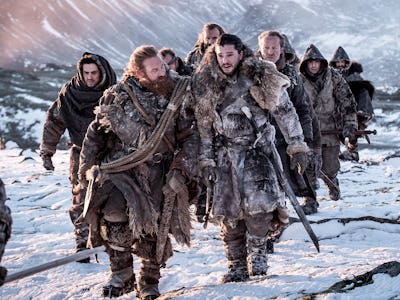 HBO
Game of Thrones didn't pull any punches in the final episodes of Season 7, killing off key characters like Littlefinger and turning Viserion the dragon into a zombified ice monster. But if you were worried about the fate of your favorite red-headed wildling you can rest a little easier. It looks like Tormund (sorry Ygritte fans, she's still dead) will make it into Game of Thrones Season 8 after all, along with another popular hero.
That may come as a surprise to anyone who remembers the Season 7 finale, which ends with huge blocks of ice presumably crushing Tormund, Beric, and a handful of Night's Watch members to death after the Night King uses his new dragon to break through the Wall. However, the recently-released script for that episode makes a pretty strong case that both characters actually survived.
Insider broke down the script for the Season 7 finale episode, "The Dragon and the Wolf," after it was released on Monday as part of the Emmy nomination process. Here's the important part, which describes the action after a chunk of the Wall comes crashing down.
Tormund and Beric lead their wildling comrades to the stairs carved in the ice — Eastwatch has a massive zig-zag stairway, not an elevator like Castle Black. They run for their lives and disappear from view.
That seems like a pretty clear indication that Tormund and Beric bother escaped death, at least for now. Of course, it's possible that the Game of Thrones showrunners could decide to take things in another direction when Season 8 actually begins. But the fact that we never see either character explicitly die onscreen is usually a pretty safe bet that they aren't done for yet.
Whether either Tormund and Beric can make it through Game of Thrones Season 8 alive is another question entirely, but we'll have to wait until next year to find out.
Game of Thrones Season 8 is set to air in the first half of 2019 on HBO.