'Star Wars' Live-Action Show Will Be 'Game of Thrones'-Level Expensive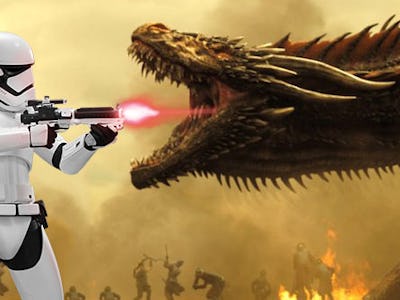 Lucasfilm/HBO
The upcoming live-action Star Wars show will cost a whole bunch of Credits — or perhaps a whole bunch of Gold Dragons. The reported budget for Jon Favreau's 10-episode series is $100 million, or about $10 million per episode. That puts the show on par with Game of Thrones, HBO's tremendously expensive (and popular) fantasy series.
The still-untitled series' budget was revealed as part of a large piece in The New York Times about Disney's own streaming service, which is also still-untitled and scheduled to debut in 2019. Disney, which owns Star Wars (and Marvel and Fox) is aiming to compete with Netflix and other streaming libraries by putting all its beloved IPs under one roof and collecting all the subscription money, rather than just a cut of another platform that has licensed the Disney-owned show or movie.
The live-action Star Wars show, which will be set seven years after the events of Return of the Jedi, is a pretty enticing lure for fans to shell out money for a subscription to Disney's streaming service — especially when it's such an expensive (and therefor likely extremely nice-looking) series.
"Star Wars is a big world, and Disney's new streaming service affords a wonderful opportunity to tell stories that stretch out over multiple chapters," Favreau told the New York Times in an emailed, very natural-sounding statement.
For comparison, Season 7 of Game of Thrones cost about $10 million per episode, though obviously some episodes — like the one with the Loot Train Battle — ate up more the of the budget than others. Season 8 is rumored to be even more expensive, with Variety reporting that the six-episode season will cost $15 million per episode.
Money doesn't always equal quality, but in Star Wars' case, it's probably good that the House of Mouse is throwing millions of dollars at this series. That galaxy far, far away has a specific visual style, one that's loaded with diverse planets, tons of aliens, and authentic-looking props. Also, space battles and all-CGI aliens don't come cheap, not if you want them done right. With a $10 million per episode price tag, the TV show might not feel like a watered-down version of the Star Wars fans know and love from the movies.
Even if, you know, The Last Jedi cost upwards of $200 million and was a quarter as long as a 10-episode season will be.
No premiere date for the live-action Star Wars yet. Thing doesn't even have a name yet.