Here's What Apple's Next iPhone Will Probably Include in the Box
Apple is likely to make some big changes.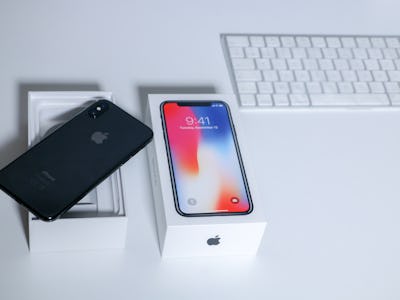 Unsplash / Mohamed Boumaiza
Apple's next iPhone is almost here, and it's probably going to include some interesting accessories in the box. The days of bundled docks are long gone, but the company includes a careful selection of chosen accessories to get users on the move as fast as possible.
The company is planning the bumper launch of three new devices this fall, according to rumors. A $699 6.1-inch iPhone will serve as the cheapest model alongside an upgraded $899 5.8-inch iPhone X and a $999 6.5-inch iPhone X Plus. Unlike the more expensive versions, the 6.1-inch phone will use an LCD screen instead of OLED, and images suggest it will also only offer one camera lens unlike the dual lens found on other phones.
Whichever phone you choose, here's what rumors and past experience suggests you may receive with your new iPhone.
The iPhone Itself
This would be a strange omission.
EarPods
Apple's next iPhone will probably include a set of wired EarPods with a Lightning connector, just like it has done for the past two years. While Slate made the argument in May that Apple should include a pair of $160 wireless AirPods with the device, it's unclear why the company would bundle an accessory that's received rave reviews on its own terms.
However, one key accessory that is likely to not come with the iPhone is the 3.5mm headphone jack to Lightning adaptor. An analyst note from Barclays reported by MacRumors on Thursday claims the team has confirmed the dongle won't come with the phone. The $9 addition shipped with the iPhone 7, 8, X, and Plus-sized variations in between, as these devices don't offer a built-in headphone jack like other iPhones. It seems, though, that Apple has decided enough time has passed that consumers are now used to a jack-free life. In short, if you want to use older headphones, you're probably going to have to pay.
USB-C Power Adaptor
Apple is expected to include a redesigned power adaptor with this year's phone. This 18-watt adaptor will appear slightly slimmer than the older five-watt cube, and instead of a standard USB port it will offer a reversible USB-C port like the ones found on the new MacBooks.
The big benefit would be faster recharge times. This new block would likely be able to charge an iPhone from 0 to 50 percent in half an hour and 80 percent in an hour. This would be a marked improvement over the current 5-watt power block that takes around two and a half hours to fully recharge an iPhone.
USB-C to Lightning Cable
A new charging block will require a new charging cable. The USB-C to Lightning cable may not plug into older USB ports without an adaptor, but it will unlock those fast charging speeds to get on the move faster. The cable is already available on the company's website for $19, and Apple also sells a regular USB cable for those that need better compatibility.
Sure, it doesn't fit with a lot of older USB ports, but if it means faster charging out of the box it may be worth the tradeoff.