The Future of 3D-Printed Guns Gets Murkier After Judge Blocks Code Leak
In the midst of a political showdown, it wouldn't be the first time Trump has flip-flopped on gun policy.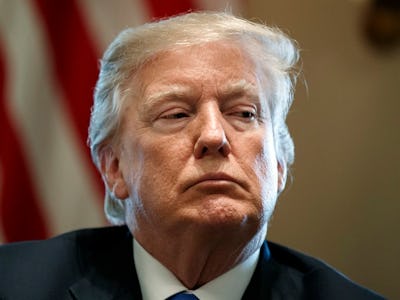 Within 12 hours of Donald Trump tweeting that "3-D Plastic Guns being sold to the public… doesn't seem to make much sense," a federal judge issued a temporary restraining order to stop the release of downloadable blueprints, the conclusion of a settlement reached with the Trump administration in June after an unsuccessful 3-year court battle for Second Amendment proponents.
Wednesday was intended to be the first day that computer-assisted drawing files for polymer-based guns, including an AR-15 style semi-automatic rifle, would be posted to DefCad, an online hub for 3D-printed gun schematics. Debate between gun hobbyists and gun violence prevention groups peaked Tuesday afternoon when several state attorneys filed a lawsuit against DefCad's parent company, Defense Distributed, the Second Amendment Foundation, the State Department, and other federal agencies that regulate weapons.
How Does the White House Feel About 3D-Printed Guns?
The National Rifle Association has endorsed the 3D-printed gun schematics being published, defending it as an issue of innovation, free speech, and, of course, the Second Amendment. Trump has bowed to the NRA's agenda of arming teachers and making guns easier to own, use, and purchase in the past, despite earlier promises that he would raise the age limit to purchase rifles and backing legislation for near-universal background checks.
Trump's tweet today, despite its vague sentiment, would indicate that he is not in support of widely available 3D-printed plastic guns. And the White House later reaffirmed that gesture by confirming that the administration stands behind an existing law that makes it illegal to own or produce plastic homemade guns.
The issue of 3D-printed guns has definitely resonated with Democrats in terms of safety. Plastic guns cannot be tracked by a government database, since they have no serial numbers, and theoretically could be mass-produced for illicit activities. Democratic New York Governor Andrew Cuomo issued a cease-and-desist order against DefCad Tuesday, and Democrats in the House and Senate filed legislation that would ban guns made from any 3D-printed material.
How Would 3D-Printed Guns Work and be Regulated?
The files that allow internet users to print 3D plastic guns were already available and downloaded thousands of times on DefCad's website before it was federally blocked in a four-year court case between Defense Distributed and the US government. During legal limbo, the lines of code that 3D-printer owners could use to make guns were still exchanged on torrenting sites.
But the State Department settled with DefCad, and the site promised that the "age of the downloadable gun" was upon us. The gun schematics that are available to download illegally right now include the AR-15 style weapon, along with an AR-10 assault-style rifle, a pistol called the "Liberator," and a Ruger 10/22.
It has yet to be made clear in a court of law whether lines of code can even count as free speech that necessitates constitutional protection. In fact, the ethical issues surrounding the 3D-printing of weapons has barely entered the public or legal consciousness before now.
Until now, DefCad has undeniably been the victor of its legal battle with the US government to share files. Tuesday's temporary block will do little, if anything, to stop the information that has already been shared and downloaded thousands of times online. No lawyer or judge has been able to put a stop to it since the site launched in 2012, and the Trump administration's June settlement of this year laid a foundation for a successful First and Second Amendment argument for DefCad.
Despite efforts of high-ranking Democrats, once the code reaches the internet, there's no stopping it. The most realistic course for law enforcement moving forward is a comprehensive set of new regulations for possession, production, and sale of 3D-printed weapons.