Tana Mongeau Breaks TanaCon Silence in YouTube Video Full of Accusations
Mongeau's new video makes up in suspense for what it lacks in substance.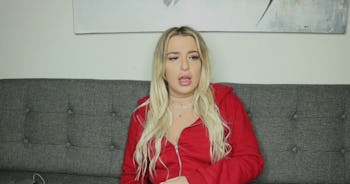 Tana Mongeau, the 20-year-old YouTube star whose disastrous convention was likened to the Fyre Festival of social media influencer meet-ups, has made a valiant return to the platform that built her in her first YouTube video uploaded to the platform since the trainwreck of an event.
The first ten minutes of Mongeau's hour-long "Tanacon: The good, the bad, and the ugly" video was filmed Monday morning, and is both the most perplexing and the juiciest segment of the entire production. Mongeau, best-known for her "STORYTIMES" genre of streaming entertainment, said she had been working with her older, seemingly wiser mentor Shane Dawson for the past month and a half. Dawson created a three-part "docuseries" about Tanacon in the immediate aftermath that has racked up almost 40 million views.
Mongeau alleges that she and Dawson have compiled a film-length package of evidence and interviews with other creators about rape, sexual assault, embezzlement, and "people being fucked over and lied to" within the YouTube industry, and the streaming community at large. It's unclear how much of that has to do with TanaCon, if any of it even does, but Mongeau emphasized her decision to put the documentary on hold while she finishes mopping up the mess of refunds and angry convention attendees who only received cheap gift bags, severe sunburn, and dashed hopes at her event.
What New Information Came to Light in Tana's Video?
"I'm an idiot," Mongeau reiterates throughout the hour of footage, monologuing, and news cuts. She insists that she takes full blame for putting her name and her reputation at stake with TanaCon, but spends the rest of her time rehashing a lot of what Dawson already covered, peppered with additional videos and details.
In terms of reimbursement, Mongeau says that out of around 5,000 tickets sold, she'll be reimbursing the thousands of "Featured Fucking Creator" VIP badges that cost $65. She claims that 99 percent of refunds have already been finalized, but Mongeau plans to further refund some, but not all, travel and hotel expenses for fans who dished out savings to pay for TanaCon. She also responded to Gabbie Hanna, a planned TanaCon guest, by saying that all the revenue from the four ads on her response video will go toward reimbursement.
In the video, Mongeau played clips from her Access Hollywood interview days before TanaCon, footage from her videographer detailing the questions she asked Good Times Live and Michael Weist ahead of the convention, and walkthroughs of the Marriott weeks before it burst open with a flood of pissed-off teenagers.
Weist, the 20-year-old entrepreneur behind the event planning company in charge of TanaCon, has yet to respond to Mongeau's latest round of blanket allegations that he was "hated in the industry," has a staff that is "afraid of him," and "lied over and over again" to her about the logistics and production of TanaCon.
Weist intentionally led Mongeau to believe that he could pull off a convention down the street from VidCon, on the same weekend, with just two months of planning, Mongeau claims, describing the exorbitant lifestyle Weist dazzled her with throughout the process. But there were warning signs she ignored, like her actual manager's reluctance, a Good Times film crew "secretly recording her," and Weist pretending he lived in a mansion while actually sleeping in his parents' guest house.
The weekend of TanaCon, an interview with a security guard Weist hired said on video, upon prompting, that she'd "clothesline" a kid if they annoyed her. Mongeau plays tape of her headlining panels, marrying a pair of fans onstage, and changing from outfit to outfit the day disaster struck, all while allegedly unaware of the brewing chaos outside.
Besides a few more alleged details Mongeau tosses out, like that Weist canceled the on-call paramedic team, fired half the security guards, and tried to rush order black t-shirts that said "Security" to fool attendees, there isn't that much revelatory content in Mongeau's extended apology.
How Does Tana's Explanation Fit Into What We Already Know?
As we already knew from Dawson's videos, Mongeau allegedly expected Weist to provide expensive goodies in her VIP gift bags. She toured the Marriott space Good Times reserved. She asked logistical questions. She convinced creators to appear on stage at TanaCon. Mongeau also claims that she "sat up every night going over everything," was "constantly" texting Weist about planning and held "phone meetings" while on spontaneous trips to Hawaii.
But she seemingly never planned on being in charge, and knew that she alone wasn't capable of handling the safety, security, logistics, and vendors. Mongeau implies that, despite her best intentions for the mission and purpose of TanaCon, there was nothing she could do to fix the root cause: Weist's inadequacy. Inverse reached out to Weist for comment but did not receive an immediate response.
Mongeau's fellow YouTube creators seem to be standing behind her, for the most part, throughout the controversy. Most of the YouTube comments are negative on her latest explanation, or at best, a veiled form of constructive criticism. There's still a lack of self-awareness and sincerity on Mongeau's part, still unanswered questions, and still immaturity clouding the severity of her mistakes.
Mongeau's audience seems to think her intentions were spiteful — a point put forward by Dawson used to weave a forgiveness narrative. The idea of TanaCon was born from her perceived unfair treatment at VidCon. She still could have held a safe and fun convention that existed solely to be a VidCon competitor. It's what larger creators like Philip DeFranco endorsed in the first place. Now, it's up to Mongeau's peers in the streaming community, her fans, and her detractors to hold her accountable for what she's promised in the wake of her mistakes.