TanaCon Has Started Issuing Refunds, but Some Still Want a Lawsuit
Multiple attendees tell Inverse that they want more than a refund.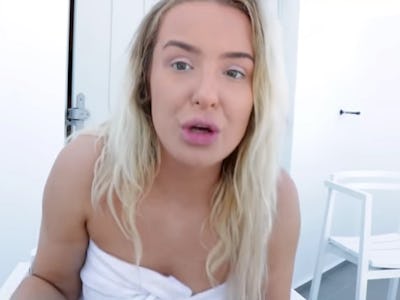 YouTube / Tana Mongeau
Attendees of TanaCon, the YouTube convention started by Tana Mongeau that descended into Fyre Festival levels of chaos on June 22, are finally receiving refunds for the canceled event, but some customers are still talking about a potential class-action lawsuit.
Ashley Zoe Fox spent nearly $2,000 for her and her family to travel from their home in Pennsylvania to Anaheim, California, to attend TanaCon in conjunction with VidCon. "If we weren't doing TanaCon, it was up in the air if we'd go to Vidcon. TanaCon sealed the deal for us," she tells Inverse.
Sarah Bixby says she spent $1,180, draining her savings and some of her parent's money, to exclusively attend TanaCon. "I grew up poor and always dreamed of going to VidCon but the tickets are so expensive so I never could afford it," Bixby tells Inverse. Now, Bixby is facing surprise medical expenses and could use the money that was spent on TanaCon to support her family: "My mom had emergency surgery on her hip the Monday of TanaCon which has put a toll on our family."
Fox, Bixby, and others are now considering a class-action lawsuit to recover travel expenses and make up for physical and emotional damages.
The Refunds
The refunds, which started being issued Monday by newcomer ticketing company Veeps, are a glimmer of hope for customers, who until now, have received no form of reimbursement for the scrapped festival that sent some to the hospital.
The first report of a refund appeared on Monday on Reddit from Sarah Bixby who posted a screenshot on r/TanaCon.
On Twitter, Ashley Zoe Fox, @corisclnt and a handful of other users posted screenshots of their refunds.
Originally, users were instructed to file refund claims with Good Times Entertainment, LLC, the company run by Michael Weist, who became the focus of the viral three-part Shane Dawson "documentary" on the incident.
After submitting claims, users received instructions to file refund requests over email with ticketing company Veeps, which is holding money paid by ticket buyers. A message from Veeps delivered on July 4 says that users have 30 days (until August 3) to submit a claim, which they say will be delivered in 90 days.
When a Refund's Not Enough
Despite news of the refund for those that have submitted claims, multiple attendees of TanaCon tell Inverse that they would pursue a lawsuit.
Fox says that on top of her travel expenses, her and her husband experienced disturbing injuries as a result of TanaCon.
Fox, who used to be a paramedic, says her family got severe sunburn, describing her husband's head as "as red as a beet." She continued, "I was having signs of heat exhaustion that started going towards heat stroke. I went from cold and clammy, sweating a lot, and all the sudden I stopped sweating."
Luckily, Fox could recognize the unsafe condition she was in, but she stressed the concern the incident caused for her, saying "there were thousands of kids there that had no clue that they were in that much danger."
Fox says she thinks that the damages merit a class action lawsuit: "I believe that anyone that traveled with the express reason to go to TanaCon should be refunded a large portion of their travel expenses and there should be a class action lawsuit for people who got injured."
Shortly after TanaCon, Tana shared with her 1.11 million followers on Twitter that she was open to compensating people for travel, but there have been no signs that that has actually occurred.
Sarah Bixby, of Boston, says that after Tana's tweet she tried reaching out to the YouTuber about her travel expenses but has not heard back. Now, her and Ana Marie Olson, who tells Inverse she is in discussions with a law firm, are pursuing the possibility of a class action suit. "I'm happy to finally be getting a refund but I think there is more that should be done to make up for this which is why I'm joining the lawsuit," Bixby says.
Despite a fair amount of interest in recovering more funds, there are others who aren't interested in a lawsuit. Corina Escalante, who posted a picture of her refund on Twitter, tells Inverse that she doesn't feel owed anything despite the fact that she spent $789 on travel from Texas and lodging in California. "Even though the weekend didn't work out quite as planned, I still had a decent time in California and made the most of the weekend," she says.
With mixed interest, the future of TanaCon attendees is unclear. With a refund being issued, significantly fewer individuals can theoretically make claims against the convention, which alone, was only host to about 5,000 people. But what may not be recovered in monetary compensation may be delivered in the form of brand damage. Despite the limited number of refunds that have been issued, the TanaCon hashtag on Twitter continues to show multiple tweets per hour from frustrated attendees who haven't received refunds, or are looking for more compensation.
And even in her circle's own videos, it appears that Tana can't escape the controversy. In a video by a friend, in which Tana made a cameo, TanaCon inadvertently became the punchline.