McFarlane Toys Partners With Epic Games to Make 'Fortnite' Collectible Figures
You won't be able to buy this with V-Bucks.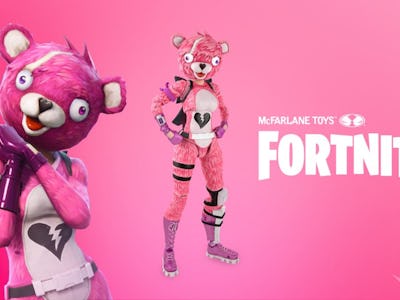 McFarlane Toys
Earlier in July, pop culture collectibles giant Funko Pop announced a deal with Epic Games to produce a Fortnite collection. This kicked off Fortnite: Battle Royale's invasion of the physical world, and a new announcement with a major toy manufacturer will take those efforts even further.
McFarlane Toys announced Monday it partnered with Epic Games to produce a line of Fortnite premium collectible figures. The toy manufacturer will create seven-inch toys based on the skins in the game. Along with the premium figures, McFarlane Toys will also produce other collectibles and resin statues based on the game. CEO and founder Todd McFarlane posted a video on his Twitter account about the announcement and giving his version of some of the more well-known Fortnite: Battle Royale emotes.
"The 'Fortnite' brand has taken on global status and continues to grow each day," McFarlane said in a press release. "The game, with its sense of skill and irreverent fun, now has hundreds of character options to choose from, which is a tremendous blueprint for making any successful toy and action figure line."
Fortnite: Battle Royale continues to grow in popularity on a pace rarely seen in video games. In less than a year, the battle royale game earned more than $1 billion, a figure game franchises take years to reach across multiple games on both physical and digital platforms. It's clear that everyone wants to be in the Fortnite business in whatever way possible.
The McFarlane Toys Fortnite collectible figures will release this fall in retail stores. No price for the toys was provided.
Another addition to the Fortnite: Battle Royale empire is the release of the Android version of the game. Rumors state Epic and Samsung partnered to release the game exclusively for the Galaxy Note 9 30 days before it will be available on other Android phones.