'Teen Titans Go!' Actor Hints at Original Series Revival in Now-Deleted Tweet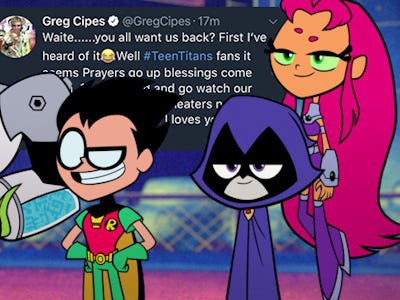 Warner Bros. Animation
Teen Titans Go! to the Movies brought the Teen Titans to the big screen, but it might've also brought the original Teen Titans TV show back from the dead. The post-credits scene marked the return of the original versions of the characters and hinted that they'd be back for real, although Cartoon Network and Warner Bros. haven't confirmed anything yet. Nor has the cast, although one of the stars tweeted — and deleted — a promising comment.
When Teen Titans Go! to the Movies premiered on Friday, actor Greg Cipes, who voiced Beastboy in both the original 2003 Teen Titans series and the goofier, more comedy-driven Go! iteration, responded to a tweet containing a video of the movie's post-credits scene. That scene, which ended with Robin saying "we think we may have found a way back," got fans of the original series excited about a long-awaited revival.
"Waite……you all want us back? first I've heard of it😂" Cipes wrote "Well #TeenTitans fans it seems Prayers go up blessings come down. Stay tooned and go watch our @Teen TitansMovie in theaters now and laugh your butts off!! I loves you all. ~#Beastboy💚"
The tweet was deleted shortly after, possibly because Cipes was giving too much away or because he had shared a tweet containing some bootleg footage of the movie. Maybe both.
The Teen Titans actors have long known that there's a large contingent of viewers who really want the original series, which was more plot-driven and mature than the zany Teen Titans Go!, to get a revival. It was canceled in 2006, and Go!'s premiere in 2013 only made fans want the original back more, even though Go! is a terrific, albeit very different series.
Tara Strong, who voices Raven, tweeted on June 1 that the cast had been told that if Teen Titans Go! to the Movies did well at the box office, Warner Bros. would consider making a sixth season of the original series alongside a new season of Go!.
There's still no official confirmation that Teen Titans is coming back (and if it comes back, no word on whether it would air on Cartoon Network or DC's upcoming streaming service DC Universe, much like another revived cult-classic, Young Justice.) But, between Strong's pre-movie tease, the film's post-credits scene, and Cipes' deleted tweet, it sure seems like the Teen Titans will fight crime once more.
Teen Titans Go! to the Movies is now in theaters.