An Instagrammer Was Hit by a Car Making an "In My Feelings" Challenge Video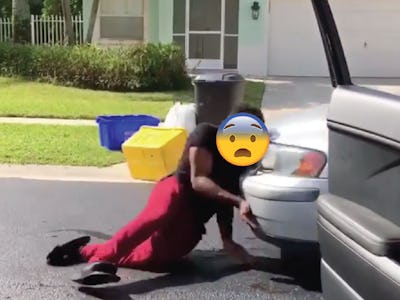 A viral internet challenge wherein participants dance alongside a moving car is bound to have consequences, and Jaylen Norwood of Boynton Beach, Florida literally faced them head-on while filming an "In My Feelings" Challenge video last week.
In the video, posted to the Instagram account "whyisyourgirlfriendtextingmelol" on July 25, Norwood can be seen hopping out of his car and starting to dance on a public street to Drake's latest smash hit "In My Feelings" while his passenger filmed the all-too-familiar moves choreographed by comedian Shiggy and popularized by New York Giants player Odell Beckham Jr. But as Norwood slips on an oil patch at his feet, an oncoming car squeals to a stop a second too late, and the two collide with a cringe-worthy crunch.
Fortunately, the impact was mild enough that Norwood walked away without any serious injuries. In the video, he shows off some gnarly cuts on his arm while his videographer laughs and exclaims in shock intermittently. Norwood's "In My Feelings" Challenge fail, along with a series of other viral videos of would-be participants walking into poles, tripping over themselves, and impeding traffic, inspired police departments around the world to issue warnings.
The tweet above was issued by the verified Mumbai Police account on Twitter, while authorities in the US, Spain, Malaysia, and the United Arab Emirates have also warned of potential criminal charges and fines for people getting out of their cars to dance on public roads. Celebrities and social media influencers capitalizing on the trend have leaned into the appeal of dangerous stunts with content that is often eye-popping and attention-grabbing.
Will Smith filmed arguably the most insane Shiggy-inspired video while dancing on top of a bridge in Budapest. His stunt has 18 million views and counting, in comparison to Norwood's 40,000.
A different amateur attempt circulating on Twitter has over 1.5 million views, thanks to its star seemingly getting crushed in a similar drive-by accident. That video, the creator of which is Instagrammer Kari Miller, is a fake, fortunately, and the use of special effects is evident. However, the possibility of the "In My Feelings" challenge going terribly wrong is all too realistic, thanks to close calls like Norwood's.
Fakes aside, the National Transportation Safety Board has also issued a broad federal warning about the challenge, citing motor vehicle crashes as the leading cause of death in the US. The board criticizes "foolish" participants for the stunts and ask that drivers, pilots, and operators focus on safely operating their vehicles in light of the incidents.
Both Drake and Shiggy have commented on and shared iterations of the "In My Feelings" Challenge, but neither have issued any words of warning to fans about staying safe when meme-ing.