The Drake-Inspired "In My Feelings" Challenge, Explained
Kiki, do you love me? Are you riding?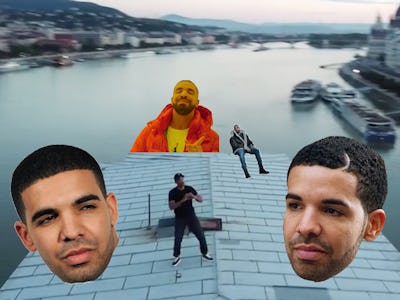 There hasn't been a good viral dance move since dabbing gave us some of the best Vines (RIP). Trends like dabbing, whipping and nae nae-ing, and even Miley Cyrus' unique brand of twerking hold a sacred hall in meme history. They're a combination of viral social media posts, inescapable bops, and a dance move challenge that participants can perform either remarkably well or hilariously wrong.
Drake is no stranger to chart-topping pop and hip-hop singles, no. 1 albums, like his latest, Scorpion, and inspiring hordes of memes with songs like "Hotline Bling" and "The Motto." (Sidenote: Yes, Drake rightfully claims YOLO.) Now, with the track "In My Feelings," off his new album, another dance craze has risen. Introducing, #DoTheShiggy.
How Did "In My Feelings" Turn Into a Meme?
It all started with Shiggy, aka TheShiggyShow, an Instagram account with 1.4 million followers for comedian Shoker. He posted a video of himself performing a short routine he choreographed to the beginning of "In My Feelings." It's not an overly complicated routine, although the footwork would be tricky for a novice. It also plays off the chorus, a verse with an infectious rap that keeps the track moving: "Kiki, do you love me? Are you riding? Say you'll never ever leave from beside me."
The Shiggy dance, hashtagged #DoTheShiggy, is easy enough to copy that several celebrities have tried it. The first, New York Giants player Odell Beckham Jr., crafted the cinematography that really allowed the routine to take off as a challenge in addition to a meme. He gets out of a car while listening to "In My Feelings," then performs a pretty good impression of the Shiggy on the side of the road, enunciating the movements that reflect the lyrics.
This Is Us stars and on-screen couple Sterling K. Brown and Susan Kelechi Watson did it next, followed by newlywed singer Ciara and Seattle Seahawks player Russell Wilson on their honeymoon in Cape Town, South Africa. Will Smith took the challenge to a literal new level, performing the dance on top of a bridge in Budapest with a drone circling to capture the action.
And Drake himself, never one to shy away from his viral impact, performed the Shiggy onstage at the London Wireless Festival this past weekend.
Will the Meme Turn Into a Lasting Dance?
Historically, a meme-turned-dance trend takes a lot more participation from the average folks, and not just celebrity endorsements, to become a cultural mainstay. The most memorable dabs were the ones performed in school hallways, subway stations, and by people's real-life family members and friends. Memes only truly take root off the internet.
So, while iterations of the "In My Feelings" challenge have gained traction on Twitter, the likelihood that the Shiggy will be performed at middle school dances is low. For starters, it's not a singular move or short sequence like the dance crazes of years past. It's a routine that would take time to memorize, and while certain parts imitate Drake's lyrics, the song itself isn't instructional. Routines like "The Hoedown Throwdown" and even white wedding reception favorites like "The Cha Cha Slide" and "The Cupid Shuffle" spell out the moves for you.
But the Shiggy is undeniably fun — at least while it lasts.