Here's Who Naomi Ackie Might Be Playing in 'Star Wars: Episode IX'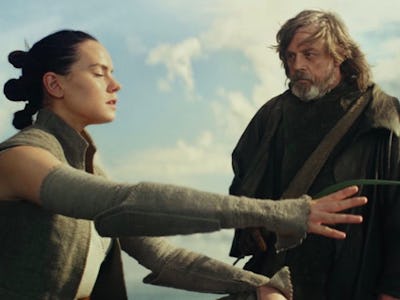 Lucasfilm
A brand-new actress has joined the cast of Star Wars: Episode IX, and we're all wondering: Who is Naomi Ackie playing in the new Star Wars movie?
Late on Friday afternoon, Lucasfilm announced via StarWars.com the official cast for Star Wars: Episode IX. It came with several surprises, including the return of Mark Hamill as Luke Skywalker (who died in The Last Jedi) and the late Carrie Fisher as Leia Organa. But one newcomer for the final episode of this new trilogy is Naomi Ackie, a relatively unknown British actress who once appeared on Doctor Who.
So who might she be playing?
Some supposed plot leaks from May 2018 on Reddit could offer clues as to the identity of this newcomer, especially when framed in the larger context of Disney's grand plan for Star Wars merchandising via the new theme park in the coming years.
Redditor FOOSLS posted to the Star Wars Speculation subreddit a supposedly leaked early storyboard for Episode IX. By this account, the remnants of the Resistance travel to the "unknown regions" of the galaxy five years after The Last Jedi after they're tipped off by an insider.
"The tip leads them to a planet in the unknown regions," the apparent leak reads, "and they must infiltrate a First Order command station to extract a young female alien prodigy who is the key to navigating these regions." The ultimate goal is to expose to the wider galaxy the horrifying practices that the First Order engages in.
Assuming these leaks turn out to be more or less true, we're willing to bet that Naomi Ackie is probably playing this brand-new character that will have a very important role to play in the new movie. The alleged leak goes on to say:
"This entire A plot revolves around liberating the captives before they are exterminated and exposing these horrors to the galaxy at large. This plot is resolved with the Unknown Regions becoming united and preparing for war with the known regions."
Chances are that the Resistance works with this new character to liberate First Order captives and jumpstart a broader revelation that'll shut the First Order down for good.
If all this turns out to be true, then it'll put a great deal of focus on Outer Rim territories, and probably places like Batuu, the setting of the new Disney theme park.
Again, all of this is speculation right now considering we know virtually no concrete details about Episode IX other than the cast. But should these rumors and "leaks" turn out to be true, then we might wind up saying that we told you so.
Star Wars: Episode IX is scheduled for release in December 2019.