The Insanely Cheap Tribit Bluetooth Headphones Make the AirPods Look Like a Kid's Toy
Better sound at a fraction of the price.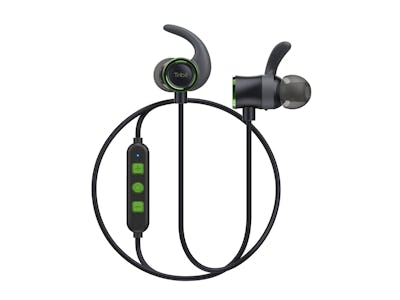 Amazon
Sure, Apple's signature headphones, the AirPods, have a lot going for them. The design is nice and the charging case is a super convenient touch, but sound-wise there's still little to differentiate the company's $150 offering from the leaky, uncomfortable pair of wired headphones that comes standard with your iPhone.
So, instead give the $25 Tribit Bluetooth headphones a try and be amazed. The construction is lightweight and durable, and the CVC 6.0 noise cancellation technology makes traffic noise invading your podcasts a thing of the past. Unlike the AirPods, these things are also sweat and water-proof, meaning whether you're working out in the rain or walking to Taco Bell in the rain, you're covered.
A magnetic connection also keeps your headphones tangle-free when they're not in use, and ergonomically designed ear fins and soft silicone earbuds are ergonomically designed keep the fit comfortable for hours, while delivering sound straight into your ears and not the person sitting next to you on the train trying to read their damn book.
The Bluetooth 4.1 technology is crisp and, in my experience, never skips or drops for a second. The built-in rechargeable battery lasts more than ten hours, and the headphones only take another two to recharge. Simply put, son't spend $150 on decent headphones. Spend one sixth of that on some great ones.