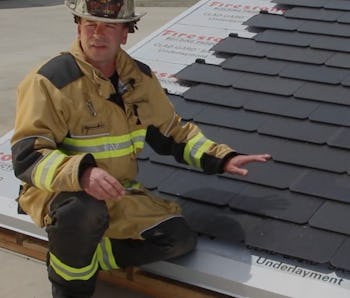 Innovation
Tesla Solar Roof's Jaw-Dropping Design Showcased in Emergency Response Video
The roof is surprisingly safe for firefighters.
Brock Archer/YouTube
The Tesla solar roof is harvesting energy in homes, and a new video demonstrates the craftsmanship at work. A training video for first responders, uploaded to YouTube this week, shows how firefighters and others can interact with the solar-harvesting roof during an emergency. While the video serves an important safety purpose, it also demonstrates the care and detail that went into its design.
The video, supported by the California Department of Forestry and Fire Protection, uses information provided by Tesla and "extensive hands-on research." It shows how even though the product replaces a roof with an electricity-wired construction, it's surprisingly safe to cut through. One to four tiles are joined together to make a branch, which typically holds around 16 volts. There is almost zero risk of electrocution when crushing the solar roof tiles or cutting the DC wires because the system is not earth-grounded, as long as the firefighter only touches one cut wire at a time. A rapid shutdown device can disconnect the roof circuit, reducing the circuit to a low voltage.
The video also provides context on how the tiles attach to a roof. One tile appears as three shingles on the roof, and each shingle is mounted with four feet to pivot the tiles. Removing the shingles is as simple as prying up. This is critical for creating a method for moving across the roof, as the tiles are slippery. At the nine-minute mark, the video provides a demonstration of a firefighter sliding off the roof to show how this happens.
Tesla first demonstrated its solar roof in October 2016, as part of its "house of the future." CEO Elon Musk stood on the set of Desperate Housewives and played roof salesman, demonstrating four types of tile capable of harvesting solar power. The first roofs hit houses at the start of this year, with a recommended mix of 35 percent solar to non-solar tiles costing around $21.85 per square foot, with an "infinity" warranty for the super-tough glass.
Tesla is expected to deliver its next quarterly results on Wednesday, where it will provide more information about the future of its solar roof ventures and its next steps.
If this video shows anything, it's that Tesla's roof is quietly making an impact with its sleek design.