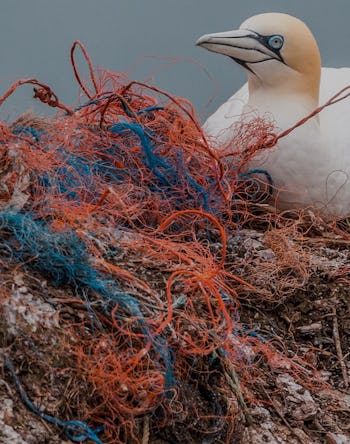 Science
A 7th-Grader Built an Underwater Rover to Save Oceans From Microplastics
'She has all of the qualities — all of those essential ingredients — to be a great scientist.'
Anna Du
Billions of pieces of plastic pollute the ocean, make their way into the bellies of wildlife, and seep into our tap water and soil. While we're out here cutting plastic straws out of our daily lives, an almost-seventh-grader named Anna Du is planning to build her second underwater remotely operated vehicle — one that uses artificial intelligence — to detect microplastics under the ocean.
Right now, the 12-year-old Andover, Massachusetts student is at science summer camp. In June, she was named one of the ten finalists in the 2018 Discovery Education 3M Young Scientists Challenge, an annual STEM competition for students between fifth and eighth grade, for her work on her plastic-seeking subaquatic ROV. In October, Du will enter the final event in an attempt to be named "America's Top Young Scientist."
From her articulacy alone, you can tell she's a shoo-in.
In an email from camp, Du explains to Inverse that her invention will help to target specific underwater regions for microplastic cleanup, thanks to its ability to identify the tiny pollutants — which are typically less than five millimeters long — without having to send samples back to a lab.
"I love science and technology because there are so many uses for it!" says Du. "You can solve so many issues all around the world that can help both animal and human lives, and it has the potential to solve some of the problems that are common to everyone, including climate change, cancer, and finding new sources of renewable energy."
"Every success in this field has thousands of failures behind it."
The energetic pre-teen has the full support of Ann Fornof, Ph.D., a polymer scientist with the manufacturing company 3M, who is her assigned mentor and is advising Du over the summer on her ROV.
"What makes mentoring Anna so exciting is that she has all of the qualities — all of those essential ingredients — to be a great scientist," Fornof explains to Inverse. "She is passionate about science and its potential to have a positive impact on society; she is curious about how things work and how she can utilize science to better our environment; and she works hard to make creative advancements and solve any problems that she encounters."
Du, who loves the ocean and marine animals, is set on helping the natural world through her engineering. With her infrared ROV, says Fornoff, Du is "looking with a different lens at a substantial challenge that many scientists and engineers would like to address."
Her ROV can be split into two systems: a navigation system composed of motors and propellers and an identification system that uses different wavelengths of infrared LEDs and an infrared camera to aid in chemical analysis of the plastics. The ROV is in its prototype stage for now, but Du is excited about adding another image-based identification system to it over the summer. She hopes to eventually make her ROV more applicable to the outside world, but for now, it takes dunks in Boston Harbor.
If all of this sounds like absurdly complicated technology for a tween, that's because it is. But Du is proof that kids can dream up and create incredible things with the right support. She lists her parents, who are "into science and engineering" as major influences — the sort of people who taught her it's okay to nurture a love for both the natural and the man-made world. Du says her parents taught her that STEM can help her solve any problem, "as long I never stop working on it."
She's passing on that message to other people her age, encouraging them to start inventing their own solutions too.
"If you're interested in STEM, don't be afraid to pursue it!" Du says. "Every success in this field has thousands of failures behind it. It's okay if you don't get it right the right time, as long as you keep on pushing forward."