Grimes Clarifies Comments on Elon Musk's GOP Donations for Tesla and SpaceX
The singer tweeted that "there is no world in which" she's okay with Republican donations.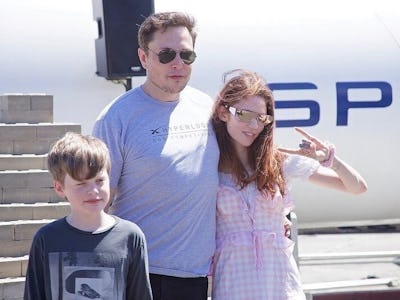 It has been almost two weeks since media coverage honed in on Elon Musk's donations to GOP political figures and political action funds. What hasn't slowed down is the dialogue between the Tesla CEO's girlfriend, acclaimed musician Grimes, and her fans on Twitter. Now, the synth-pop artist is responding to articles asking reporters to interview her before writing about her now-deleted tweets.
Musk responded to the controversy over his GOP donations by tweeting that "a reasonable amount to maintain an open dialogue" was necessary for an aerospace company to remain influential on both sides of the government aisle, but that he donated far more to environmental causes. Grimes echoed that sentiment.
It's not the first time she's gotten political on social media, considering that Grimes tweeted and deleted that she attempted to instigate a Tesla union, but there wasn't enough interest from employees. She also reaffirmed that "there is no world" in which she's "ok w republican donations," and that she has no active role in any of Musk's properties.
Ever since their dramatic debut at the Met Gala, Musk and Grimes' relationship has garnered plenty of internet buzz. Now, as they both continue to tweet politically and engage with supporters and detractors alike, Grimes is arguing with her fans over Musk's business dealings.
Only in the past few weeks has Grimes publicly offered her opinion on anything controversial Musk has done or said.
Inverse reached out to Grimes via the press contacts listed on her website and over Twitter, but has not yet received a response.