We Asked Michael Peña If His Character Died in 'Infinity War'
"Nah dude, I can't tell you anything man."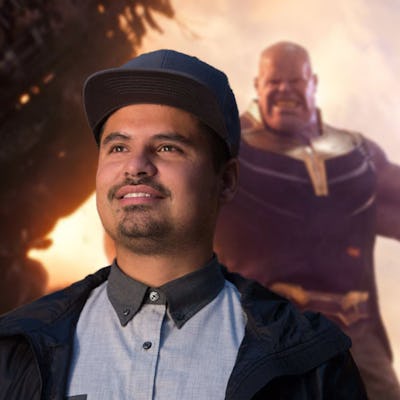 Marvel
You probably know Michael Peña from the Ant-Man films, where he shines as the funniest guy in a movie starring Paul Rudd. But in his new film Extinction, which premieres July 27 on Netflix, he takes on a more dramatic role as a troubled father navigating an alien invasion while attempting to protect his family.
While it may seem like a tonal shift for Peña's recent fans to see him as the lead in a serious role (even if the film is packed full of alien soldiers and explosions), for the actor, it actually feels like a return to normalcy. In a phone interview with Inverse, Peña explained why he still doesn't see himself as a comedy actor, discussed what it was like working with Extinction's all-star cast, and did his best to dodge questions about his role in any future Marvel movies.
The following interview has been edited and condensed for clarity.
In Extinction you're battling aliens, but you're also taking care of your family. As a comedic actor, what was it like taking on a more dramatic part?
Am I a comedian? I think I've done like five comedies and like 35 dramas. Four, maybe five comedies. Not a lot, but I guess that's what people know me for now, which is off because I've done more dramas. Crash, Million Dollar Baby … that's actually really cool.
How does it feel doing a more serious sci-fi movie like Extinction?
Sci-fi is just the style. The subject matter. You still treat it like a drama. So you can be grounded. It's all about the human connection anyway. There wasn't much changing up. Except you had to make sure you didn't tip off the story.
So you don't see yourself as a comedy actor?
I kind of would love to do more comedies. But to be honest with you, when I lead them they're not super funny to me. The Ant-Man thing was really cool because I was in the beginning stages of it. We were rehearsing and coming up with stuff. In the first Ant-Man, I was exploring different avenues and talking to the writers all the time. In the second Ant-Man, a lot of those ideas sprung from the first one we had.
But I was trying other characters at the time. You have to fit in a character that can live in the entire movie and not just a couple scenes. We were trying a few different characters that didn't work and a day before screening we found one that was funny and kept going. But that was the process, and I felt like I was involved in the process as we were filming.
"Am I a comedian?"
While we're on the subject of Marvel, I have to ask, did your character, Luis, turn to dust at the end of Avengers: Infinity War?
Nah dude, I can't tell you anything man. You just don't know.
Fair enough. In Ant-Man and the Wasp you ask for your own super suit. What do you think that suit might look like in a future Marvel movie?
You know at first I asked for a super suit with some powers. She said no. Then, but how about minimal powers? No. How about no powers, but I have a suit? I think that's what it would be. I don't think Luis would be able to trust himself with any actual powers.
When your character first walks in on the giant ant eating cereal in Ant-Man and the Wasp you have a really funny reaction. What were you actually looking at while filming that scene to help you react?
It was just acting. There was nothing. [Director Peyton Reed] is a lot of fun to film stuff with. He's so quick. He's like the comic Wikipedia. You pitch a joke and he can translate it into the movie. I was just making up stuff. I don't even remember making that up or doing that stuff. In the first movie, I don't remember saying that stuff or doing it. It's improv and you're in the moment. Sometimes they have suggestions. Sometimes it's just the right thing to say.
Getting back to Extinction, what drew you to this role in particular?
It was the story more than anything at first. I thought wow, this is a really cool story and a great opportunity. I've never done anything like that so it was really exciting. Then I saw [director Ben Young's] movie Hounds of Love and I was amazed. There were some shots that were very uncomfortable and were totally set up for the purpose of the story. And I thought, wow I'm dealing with a real director here.
What was it like working with Lizzy Caplan, Mike Colter, and the rest of the cast?
That was really cool. They all had different takes on it. Lizzy was doing some very subtle things I didn't quite pick up on. I think she's just great. From Party Down to all these other comedies, I think she's just an awesome actor. Really solid.
And Colter, he's a really strong dude. Also a smart guy. He comes in more like a power charge in this movie, which is really cool. He's presence. Then I started watching Luke Cage and he's awesome in that thing. But he has a very different acting style than Lizzy and I do.
Without spoiling anything, Extinction deals with some pretty heavy concepts. Do you think the film has a deeper message?
I don't know. There's a lot of surprises that I don't want to tip anyone off to. I don't think there's a message. I think they're mainly out there to entertain. There are viewpoints you can have. It's something that can make you think about certain things in life. Like, who do you root for and why?
Extinction is available to stream on Netflix starting July 27.