The 20 Best Celine Dion "Mixtape" Memes, Inspired by Her Discography
Her heart is about to go OFF.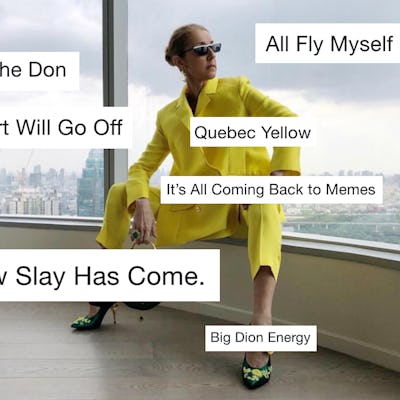 This week, Céline Dion, Canadian icon, goddess of the Titanic soundtrack, celestial being, and all-around legend, blessed us unworthy mortals with a stunning, seemingly impromptu photoshoot.
On the pop vocalist's Instagram, where she rightfully has over 2.4 million followers, Dion posted a photo of herself wearing a striking yellow pantsuit. She's also manspreading to the highest degree possible — although, of course, as an iconic female figure, she has every right to — while staring off into the distance and clutching a luxury Chloé purse. Just take a look for yourself:
The caption "Beautiful Bangkok…unforgettable" just shows us that Dion knows any city skyline is enhanced by her presence. Now, on to the relevance beyond the pure artistry of the photo: the same day, filmmaker Matthew Cherry, best known for directing The Last Fall and soon-to-be Executive Producer of BlacKkKlansman, tweeted Dion's post with the caption "What's the name of this mixtape?"
It's true. Dion's pose does indicate she's about to drop an album hot enough to rival Drake, Keke, and the entire "In My Feelings" challenge. So, based on the "My Heart Will Go On" singer's repertoire, Twitter took it upon itself to offer some suggestions.
First, Cherry gave his own take. (Dion, if you remember, sang "Beauty and the Beast" for the 1991 Disney original soundtrack.)
Others responded to Cherry's tweet with all the creativity they could muster.
Fellow filmmaker (Selma, and more recently, A Wrinkle In Time) Ava DuVernay really appreciated that one.
And do I spy a Nicki Minaj fan in the mix?
This commenter stepped in to a help a fellow Twitter user out with the correct Canadian spelling.
This one pondered whether Dion and Drake have a psychic connection when it comes to location choice.
I think it's time for Dion to drop this highly-anticipated LP.
This edit gave the karaoke favorite a real makeover.
And this one is making me crave a hotdog.
Other accounts quote tweeted Cherry's question to spread viral posts of their own. Ain't that the truth!
A Cardi B rap featuring Dion would slap.
So THAT'S what BDE refers to.
Drake is SHAKING.
PREACH.
Queen Dion has yet to respond, but it's safe to say that if she every wants to jump-start her rap career, Twitter has got her back.