Buying Altcoins Will Get a Lot Easier and Cheaper If Voyager Has Its Way
Voyager plans to offer no fewer than 15 crypto assets.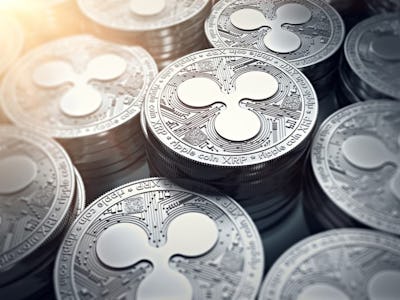 Ripple
Commission-free brokerages like Robinhood have started to move into the cryptocurrency space, but the universe of cryptocurrencies where you can invest commission-free is still relatively small. Robinhood lets you trade about five coins and tokens, including Dogecoin, commission-free. But to trade in the newer crypto assets like IOTA, Cardano, or XRP, you typically have to use a paid exchange like Hong Kong-based Bitfinex.
That's why it's notable that a new startup called Voyager thinks it can roll out commission-free trading the US with no fewer than 15 different cryptocurrencies, with a launch slated for later this year. CEO Stephen Ehrlich explained to Inverse in an email that by operating as a broker dealer instead of as an exchange, it can aggregate coins from lots of different exchanges in different countries, increasing the available volume.
"We choose our coins based upon our internal evaluation and consultation with external counsel," Ehrlich said. "We analyze various criteria in making this determination, with liquidity and security ranking as high priorities."
Liquidity is another way of saying enough people are trading the coin for there to be demand and a degree of price stability.
So which of the lesser known coins are more likely to make the cut? Ehrlich also told Fortune this week that the company is considering adding XRP and Stellar Lumens. The plan is to launch this fall in states where it as gained the approved licenses: California, Massachusetts, Missouri, New Hampshire, and Montana.
"Crypto-assets are empowering a new generation of investors," Ehrlich said in a statement. "We looked at what was currently available for investors to participate in this market and agreed there needs to be a better way."
How to Trade Crypto Commission-Free
It's hard to make money as a business without charging people for provided services. Robinhood makes money by collecting interest on the cash and securities in your account as well as by offering a premium option where users pay a subscription fee. Voyager wants to do something a little different and turn a profit by undercutting the average price for altcoins on other exchanges (crypto can often trade at substantially different prices in different places).
The hard part will be overcoming the regulatory hurdles. Offering its services in New York, for example, will require getting a coveted "BitLicense" from the state of New York (only nine firms have received this kind of license so far, including most recently Jack Dorsey's Square).
Until Voyage becomes more widely available — and if you're hoping to trade commission-free — you're best off going with Robinhood and its more limited set of options. But if you're dead set on trading some of the more obscure altcoins (without giving a broker a cut), you can sign up for Voyager's early access here.