When and How To Get a Shiny Eevee During 'Pokémon GO' August Community Day
Collecting all the Shiny forms will probably drive you nuts.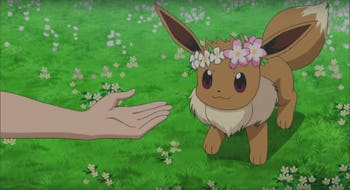 The Pokemon Company
Niantic capped off the July portion of the Pokémon GO 2018 Summer with Zapdos Day, but there's a new event on the horizon that features an iconic member of the Pokémon franchise.
Pokémon GO's August Community Day will feature Eevee, who was recently announced as the mascot of Pokémon: Let's Go, Eevee!. On August 11 to 12, Eevee will spawn in much higher numbers than usual from 2 p.m. to 5 p.m. Eastern. It's also your best chance at catching a Shiny Eevee.
As with every Community Day, there are special bonuses to encourage participation. Capturing Pokémon will reward you with a tripled portion of Stardust and lures will last for three hours.
I'm beginning to sense a pattern here: Three-hour lure, three times the Stardust, and a three hour time window for the event. Someone at Niantic really likes that number.
Moreover, you can catch an Eevee with an exclusive move that is yet to be announced. Remember, if you want the exclusive move, you must catch or train your Eevee while the Community Day is still live.
If you want to grab a Shiny Eevee, then the Community Day is the time to do it. The only way to encounter a Shiny Eevee is pure chance, and since Eevee will be spawning in buttloads during Community Day, it naturally improves your odds.
Depending on what kind of player you are, that is either exciting or depressing news. Eevee has a whopping five different evolution forms, which means you'll have to collect half a dozen Shiny Eevees to get all of its possible forms. The completionist in me is existentially terrified of attempting to collect all the Shiny Eevees and only ending up with two out of six, or worse, five out of six.
Unfortunately, there's no word on whether you can style a Shiny Eevee's hair to make it dapper AF. Sorry.
C'mon, Niantic. Give us the flowers, at least.