Comic-Con: First Minutes of 'The Good Place' Season 3 Explain the Earthbound Timeline
Eleanor won't need to say "what the fork?" anymore.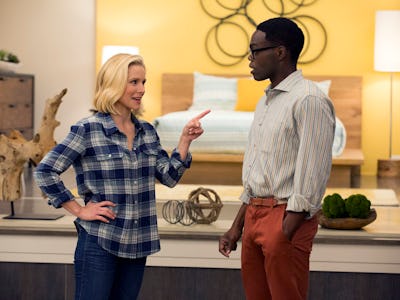 IMDB
The Good Place might be a comedy, but its plot twists rival that of any thriller on TV. The Season 2 finale ended with a cliffhanger just as jaw-dropping as its predecessor, leaving fans to wonder where Eleanor (Kristen Bell) and her team will spend their eternities. Fans who were lucky enough to attend The Good Place panel at the San Diego Comic-Con caught a glimpse of damned characters' next destination.
The stars and producers of NBC's philosophical comedy held a 50-minute panel at the Hilton Bayfront on Saturday, where the team shared insight about Season 3 and celebrated Ted Danson's Emmy nomination. The boldest revelations came from the first two minutes of Season 3 revealing how Eleanor returned to Earth in the first place.
At the end of Season 2, Eleanor, Chidi (William Jackson Harper), Tahani (Jameela Jamil), and Jason (Manny Jacinto) appear to be given a second chance after the repentant demon Michael (Danson) returns them to Earth. Eleanor falls back into her bad habits and her memories of the afterlife appear to be either erased or dormant, until Michael interferes with a little inspiration, compelling Eleanor to fly to Australia to meet Chidi.
Season 3 begins with Michael walking through a door onto a giant bridge in the middle of a black abyss. Everyone's favorite demon approaches a guard (Mike O'Malley) at a desk in what appears to be void not unlike the many layers witnessed in Season 2. He explains to the guard that he's headed to Earth and wants to reverse four deaths, which clearly refer to the fates of Eleanor, Chidi, Tahani, and Jason. However, it's going to be "kinda tricky," Michael muses, thanks to the multiple timelines that are still in play.
Michael arrives on Earth, sans powers, in time to rescue Eleanor from her humiliating death outside the grocery store, clarifying the nature and terms of her Earthly return at the end of Season 2. In just two short minutes from the Season 3 premiere, it's clear that the new season will offer the characters' multiple timelines while continuing its tradition of combining retrospectives with existential and moral quandaries.
When The Good Place finally returns on September 27, the characters who tried to prove their goodness in a theoretical space will now have to prove that their moral lessons can be applied to the tangible tribulations of Earth. And as everyone on Earth already knows, it's harder than it looks.