Here's One Question Hillary Clinton May Be Asked This Weekend at Ozy Fest
What's her assessment of Trump's "would/wouldn't" comments?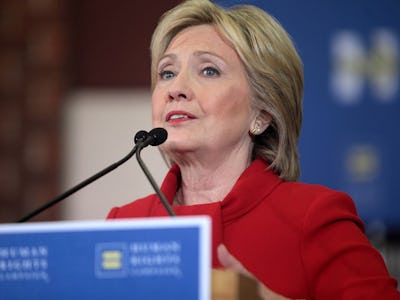 Gage Skidmore
One question Hillary Clinton will likely be asked when she takes the stage at Ozy Fest this weekend in New York City's Central Park: What's her assessment of of President Donald Trump's "would/wouldn't" comments?
The consensus of the US intelligence community has long been that Russia did interfere with the 2016 presidential election, and used several so-called "active measures" to do it, but the most glaring, obvious example has to do with Clinton's leaked email. Russian agents hacked into her private server, shared the emails with Wikileaks, which systematically published those emails in the weeks ahead of the election.
Whether Trump knew about the leaks — the "collision" he so often denies — will be determined by Robert Mueller's investigation. History doesn't put Trump's all-caps denials in the best light: He literally asked for Russia to hack her email servers during a speech on the campaign trail, and a new indictment of 12 Russian intelligence officers shows they began targeting after her email server on or about that same day.
"Russia, if you're listening, I hope you can find the 30,000 emails that are missing," Trump said on July 27, 2016 during a campaign stop in Florida.
With Russian president Vladimir Putin standing a few feet away on Monday, Trump made a comment that shocked the room as he sided with Russia over U.S. government officials who said it interfered with the election.
"I don't see any reason why it would be [Russia]."
On Tuesday, back in Washington, D.C., Trump said he misspoke. He meant to say:
"I don't see any reason why it wouldn't be Russia."
A CBS News poll found that just 32 percent of Americans approved of Trump's handling of the Russia summit. A Unanimous A.I. swarm estimated this week there was a 0 percent chance that Trump actually misspoke on Monday.
Whether those email leaks had an impact on the election depends on who you ask: Republicans say they probably didn't; Democrats say they certainly had an impact; independent voters fall in the middle.
Clinton has long criticized Trump as a willing tool for Russian interests, and specifically Putin. She memorably called him a "puppet" during a debate in October 2016. "No, you're the puppet," Trump fired back. Here's the exchange:
Laurene Powell Jobs, founder of the Emerson Collective and wife of the late Steve Jobs, will speak with Clinton during the 40-minute keynote on Saturday afternoon (Clinton's the opening act for Common).
Ozy Fest runs Saturday and Sunday in Central Park if you're in New York. Tickets for Saturday, when Clinton speaks, are $99 ($112.66 with fees). A weekend pass is $149.41. In addition to Clinton, there's a full slate of speakers and events planned for the fest, the slogan of which is "Think. Eat. Rock."
This year, Ozy Fest is also making a portion of its activities free and open to the public via a "Free Bandshell experience" on Saturday.
How to Watch Hillary Clinton at Ozy Fest 2018 if You're Not in New York
Clinton's talk, as well as the rest of the festival, will also be live-streamed on the Youtube Ozy Fest Youtube page.