This One Design Flaw Led to a Deadly Missouri Duck Boat Accident
These boats are historically dangerous.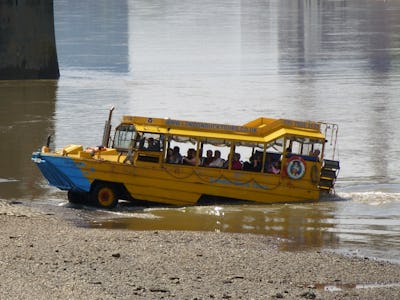 Wikimedia Commons
You can find them in Boston, Seattle, and nearly every coastal or water-adjacent city. But following a serious accident on Thursday night that killed 17 people and injured seven, people are starting to wonder whether the so-called duck boats — amphibious vessels that allow tourists to view a city's skyline from land and sea — are really safe for the public.
The tragedy occurred after a severe storm reportedly surged 5-foot waves and 60 mph winds on a lake in Branson, Missouri. And yet, it's not the first time that these duck tours, frequently a family activity, have been implicated in deadly accidents due to a design feature that relates to their initial intended purpose.
DUKW boats' origins can be traced all the way back to World War II. This amphibious, all-wheel drive vehicle — meaning, like a duck, it can travel on both land and water — was designed in 1942 as a way for the US Army to ferry ammunition, supplies, and equipment to offshore transport areas. The boat's architecture, based on the CCKW, a 2.5-ton Army cargo truck, has a hollow, rectangular hull and a singular propeller for forward momentum.
Because it only travels at a speed of five knots per hour, the boat was never meant to survive rough seas or intended for civilian use. In the summer of 1946, however, Bob Unger purchased an army surplus DUKW and transformed it into a duck boat tour of the Wisconsin Dells. Unger's ingenuity paved the way for future companies to follow suit, like Ride the Ducks, the duck tour operator behind the deadly accident on Table Rock Lake in Missouri.
As the demand for duck tours increased, the design of the boat has in fact been updated to better accommodate the popular summertime activity. These include the popular canopy roofs that were added to the boat's design in later years, and which experts say poses a safety risk for passengers trying to escape in the event of an emergency.
"This is not an open-sided boat where everybody can just pitch themselves over the side readily," Robert Mongeluzzi, an attorney in Philadelphia who has previously brought lawsuits against duck tour companies, told the Kansas City Star on Friday.
Despite life vests being present on the Missouri boat, the fact that the narrow boat sits low to the ground coupled with the rooftop design offered little room to escape once it started to sink, creating a drowning risk for everyone onboard.
"The problem with canopies is that if you are wearing your life preserver and there is a canopy and the boat capsizes then, the floatation device will take you up in the canopy, pinning you inside the vessel," said Mongeluzzi.
A similar tragedy played out in 1999 in Hot Springs, Arkansas, when 13 people were killed when a duck boat sank to the bottom of the lake just seven minutes into the tour due to poor maintenance. It happened again in 2010, when a duck boat collided with a barge on the Delaware River. It started to sink, killing two people and injuring 26. In the past 20 years alone, more than 30 people have died from duck boat accidents.
So long as we continue to use duck boats for tour cruises — despite being increasingly and widely aware of their faulty design — more people are likely to be put in harm's way.