The Highs and Lows of the 2015 MTV VMAs Nominees 
Music Videos like MTV and Miley Cyrus all still exist, who knew.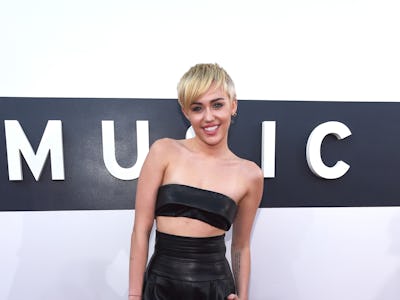 Larry Busacca, Getty Images
Today MTV announced it nominees for the 2015 VMA awards, which will take place in Los Angeles August 30th and be hosted by Miley Cyrus. The Inverse staff decided to discuss some of the nominees deserving and otherwise to get a sense of what lead to this collection of selected videos.
David Turner: Obviously nothing about the MTV Video Music Awards makes sense. MTV doesn't show videos. Music videos only exist on computer screens, yet there is about to be another year in Hollywood celebrating them. Even though I enjoyed the video, it seems strange a video so recent as "Bad Blood" sits with seven nominations. Sure it was a "big deal", but, Matt, was it really was that "big a deal"?
Matthew Strauss: First, I think it's great that new videos are getting nominations. "7/11," or anything from Beyoncé for that matter, feels ancient at this point, but MTV chooses to put on its year-end award show in the summer, so we're left with videos that didn't qualify last year. Videos can pop up out of nowhere, à la Kendrick Lamar's iconic "Alright" video, and the academy is right to recognize that bit of instant virality. Second, "Bad Blood" is awesome. It's not deep, so take it at face value. Taylor's a badass, and then some, and uses her mega-starpower to have the world's greatest roster of cameos. Winston, please agree with me.
Winston Cook-Wilson: Yeah, I mean sure, it's as big a deal as any music video could possibly be these days, though it mostly makes me want to watch the movie version of "Lost in Space." It's going for that old epic MJ model, except with Taylor Swift. We don't have anything on the level of "Liberian Girl" here though, which is one of the best short films history has to offer. Sorry, I want to talk this through, but I'm still busy being pissed that Eddie Sheeran is up in six categories, mostly for the dumb-ass video we're supposed to swoon at because he learned to do some basic ballroom dancing. How many categories is Sheeran going to steal, or is there actually even a real #SheeranHive whose will this would reflect? I'm kind of a Sheeran noob; enlighten me.
DT: Sheeran fans are very real and I'm probably more down for Sheeran than an average person should be, but still "Thinking Out Loud" isn't a video worth watching, much less nominating for an award. Still reviewing the entire list the only video that stuck out to me as a VIDEO and not a vehicle of single promotion was "Anaconda." The video captured the ridiculousness of the song and magnified it times 10, the rest of the videos if I even remember were boring. Matt did any of these nominees catch your eye in the last year to care about them at the end of August?
MS: Of course. I gushed about "Alright" the second after it came out. For me, though, the VMAs are kind of a wash. I'm happy to see one or two videos nominated that actually deserve it, but it's pretty much just a validation of the pop charts. Is "Trap Queen" great? Yes. Is the "Trap Queen" video? Not at all. As long as one or two "Alright's make it, I'm satisfied. Even the gesture is good enough, like in 2011 when Tyler, the Creator earned a Video of the Year nomination for "Yonkers" (because it's the greatest video of all time) when everybody knew it would lose (ultimately to Katy Perry's "Fireworks).
WCW: Yes, "Alright" should win all the moonmen (are they moonmen? Do I care?) A couple thoughts about the rap nominees, though: I agree with David that "Anaconda" actually enhances the unabashed garishness of that song in a fun way. It's a classic kind of VMA nom, and I approve of it. I do not agree with you about "Trap Queen" though, but this is mostly because I generally love low-budget farm-to-fork hip-hop videos; visually, Fetty flexing with just his hands while sitting in a chair and casually contemplating a pile of money in that little kitchen is a great image to me. It rules that it isn't even on Vevo yet but is coming up here. But you know, I see where you are coming from, Matt; that's partially just me liking the video because I like the song (well, liked, it's the only music I hear in my neighborhood so at this point it's reaching "Fancy"-levels of oversaturation). Videos tend to be just kind of short-shelf-life reflections of things that are already popular — probably because these days they tend to come out way after the songs. I often don't watch because I feel like I've moved on from that particular music for the time being. Did anyone else know that OK Go had a new video out, or that they still existed?
DT: I'll say if the VMAs existed to just remind the world that OK Go still exists might be the best piece of marketing I've seen this year. I'm not the biggest fan of the "Alright" video, but I know y'all differ in my dissent. So, if I may ask do you two have any other videos from the last year that deserve nomination? Personally, I'm insulted that "We Found Love" isn't going for fourth Video of the Year award, as it remains the best video of the 2010s.
MS: I listed eight of my favorites here. (Gotta love the clickbacks.) I'll go with Kanye West's Spike Jonze-directed "Only One" video. Makes me cry.
WCW: I liked that loose intensity of "King Kunta" a lot — probably watched that one more than "Alright" actually. Vince' brand new "Norf Norf" is strong too. One not-widely-circulated one I enjoyed was the extreme goofy clip for Young Thug's "Constantly Hating"; in Thugger videos, he tends to constantly wander around, half-muttering along, making insane faces, miming phones with huge stacks. His charisma pretty much jumps off the screen. One of my most watched of the year would have to this Lil Debbie video, just because I never actually downloaded the song, and for whatever mystical reason, was powerless to escape its allure. Sue me, world.