'Spider-Man: Far From Home' Might've Just Cast a Second Supervillain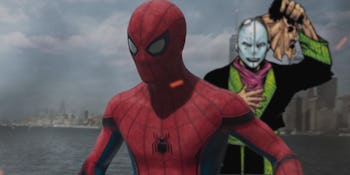 Marvel
Even though Thanos killed half of the Marvel Cinematic Universe, the second Spider-Man movie is getting pretty crowded. A recent bit of casting suggests that Spider-Man: Far From Home could be introducing another villain in addition to Mysterio.
On Tuesday, Deadline reported that Sony and Marvel have cast Turkish-born actor Numan Acar (Homeland) in the upcoming Spidey film. Little is known about what sort of character he'll be playing, as all Sony has said is that he'll be named "Dimitri." There's no confirmation that he's playing a villain, though is a member of Spider-Man's rogues' gallery who goes by that name: Dmitri Smerdyakov, aka Chameleon.
Chameleon made his debut in 1963's The Amazing Spider-Man #1, making him the first member of Spidey's storied rogues' gallery. Introduced as the illegitimate son of a powerful Russian family whose rough childhood had led to lose his sense of self and become a master of disguise, the Chameleon originally relied on masks and makeup to impersonate people, though later storylines would give him a suit with morphine abilities and, finally, shape-shifting superpowers of his own.
It's unclear how closely Far From Home's version of the character will stick to his comic backstory — or, indeed, if Acar is even playing Chameleon. It certainly seems possible, though. In Homecoming, while Michael Keaton's Vulture was the main bad guy, there were plenty of small appearances by smaller villains, including the Shocker, Scorpion, and the Tinkerer. If Acar plays a character who has adopts some sort of disguise at some point, it's probably safe to count that as the MCU's version of the Chameleon.
Spider-Man: Homecoming swings into theaters on July 5, 2019.