The Best Headphones Are 58 Percent Off for Prime Day
Save more than $170 on the QuietComfort headphones.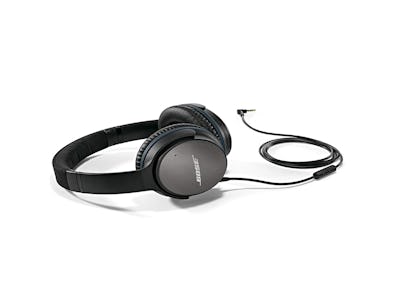 Amazon
It is a truth universally acknowledged that Bose make the best dang sound equipment around, and its noise-canceling QuietComfort headphones product line is no exception. A lot of brand names suck you in with elaborate design and little to distinguish their products from the much cheaper versions (cough Beats cough) but in the case of Bose, you truly get what you pay for.
This Prime Day, Amazon has one of the best Bose headphones on the market for much, much less than you'd usually pay. Over half off, in fact.
The Bose QuietComfort 25 headphones cost $300, except for today when they cost $125. Still pretty steep, but you're not going to be able to invest in a pair of premium headphones like this any other day of the year.
[Bose QuietComfort on Amazon, $125 down from $299.99]
It's not just a great pair of headphones you'll get, either. Advanced noise reduction technology (battery included!) means you can drown out even the most insane levels of ambient noise and focus fully on your music/audiobook/murder podcast.
Pick up the Bose 25 QuietComfort Headphones today, because they'll be too expensive tomorrow.