iPhone: How Samsung's Power-Saving Chip Could Boost Your Phone's Battery
The LPDDR5 RAM chip is a breakthrough.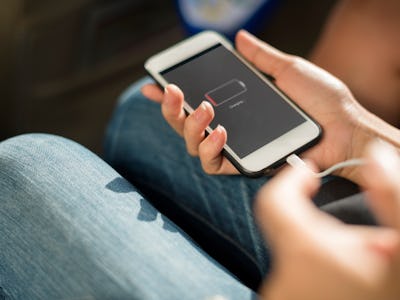 Unsplash / rawpixel
Samsung unveiled on Tuesday the first 10-nanometer-class eight-gigabit LPDDR5 RAM, a breakthrough that could lead to big reductions in power and faster speeds. The chip offers data speeds 1.5 times faster than current flagship devices, while using 30 percent less power than its predecessors. It's a big shift in mobile efficiency, and could help iPhone batteries run for longer.
The chip is used by phones to store information before it's been written to permanent memory, like open Safari tabs or currently-running apps. Samsung's new chip moves data at speeds of up to 6,400 megabits per second at a 1.1 operating voltage or 5,500 at 1.05 operating voltage, far surpassing the LPDDR4X's speeds of 4,266 megabits per second. Samsung doubled the number of internal subdivisions — or "banks" — from eight to 16 to reach these goals. MacRumors notes that, as Samsung is one of Apple's RAM suppliers, the chip is ideal for a future iteration of the iPhone.
Samsung is also taking a number of steps to use the power running to the chip more efficiently. The new model avoids overwriting cells that already contain a "zero" value. The chip also offers a new "deep sleep" mode, which cuts power consumption by half that of the existing "idle mode" in existing LPDDR4X memory. AnandTech notes that, while this sounds good, there may be a tradeoff in the time it takes to enter and leave sleep mode.
A future iPhone that uses the chip would also benefit from Apple's internal efficiency improvements. The smartphone maker has built the iPhone X with a stacked motherboard to enable the use of two battery cells arranged in an "L" shape. On the processor side, the A11 Bionic chip has two cores for high performance that work alongside four high-efficiency cores to reduce power consumption.
Samsung now plans to use its manufacturing facilities in the South Korean city of Pyeongtaek to produce its lineup of LPDDR5, DDR5 and GDDR6 "in line with the demands of global customers."
A battery life that lasts more than one day could eventually become the standard in flagship smartphones.