What to Know About macOS Mojave Beta 4, Apple's Emoji-Packed Software Update
The new version of macOS is almost here.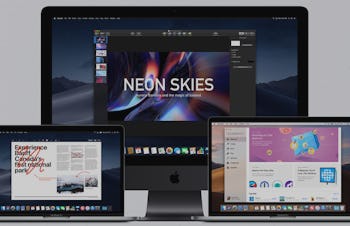 Apple
Apple's next major Mac software update is taking shape. On Monday, the company released the fourth developer beta version of macOS Mojave, its upcoming operating system scheduled for a fall release as a free update. While users have reported initial versions contained a number of show-stopping bugs, the new beta has fixed a number of issues — and Apple has also announced a slew of new emoji are on the way.
macOS Mojave was announced in June at the company's annual Worldwide Developers Conference with a range of new features like dark mode and better iPhone integration. Alongside iOS 12, watchOS 5 and tvOS 12, the company released a beta version for developers after the show. At the end of June, Apple released the first public beta of the operating system, but the public beta follows a separate launch pattern to the developer versions. The update released Monday makes three key changes: a second "dynamic wallpaper" option called "Solar Gradient," which alongside the previous Mojave desktop changes depending on the time of day; support for the 2018 MacBook Pro; a bug fix that enables users to use dynamic wallpapers while in dark mode.
Apple also announced on Monday, during World Emoji Day, that over 70 new characters are coming to the Mac, iPhone, iPad and Apple Watch as part of the Unicode 11.0 standard. Redhead and bald options are just some of the new faces layouts coming to the update, while new smiley faces include cold face, party face and a face with hearts.
The macOS beta program is not recommended for users that need their computer for regular work, with over 2,000 users sharing discovered bugs on a dedicated subreddit. In the fourth beta release notes, Apple states that "on MacBook Pro with Touch Bar (2018) models, adjusting screen brightness settings might not take effect." The beta is meant for users to get a head start on the final release, like for developers that want to ensure their apps are ready for the new release.
The stable version intended for consumers is set to launch in the fall. Apple has yet to give a firm release date, but the last three versions of macOS launched in late September.
Here's hoping the new MacBook Pro keyboards don't exhibit the same issues as their predecessor ahead of release.