YouTuber's Burnout Highlights the Worst Parts of the Attention Economy
It's create or be forgotten.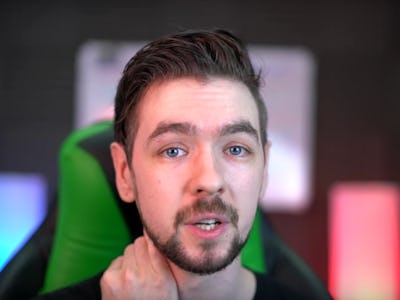 Seán William McLaughlin
For many children and young adults, becoming a successful creator on YouTube or a top streamer on Twitch is a dream come true. However, a recent video from Jacksepticeye (real name Seán William McLoughlin) might be giving them second thoughts about a career in content creation.
In the video, McLoughlin announced that he'll taking a few days off and spending the next two months in Los Angeles, citing mental health as the reason why he's taking a short break. While he describes himself as an optimistic, cheerul person, he admitted that not even he can be happy all the time and that being a creator has taken a toll on him.
"Things get to you," McLaughlin said. "Things bring you down. And some stuff has to change to kind of perk you back up, so I'm trying to find that. I'm trying to go out there and motivate myself again."
Before his announcement, McLaughlin uploaded 14 videos in the past week alone, highlighting the intense pressure he was under to stay relevant.
McLoughlin's video demonstrates the worst parts of the attention economy, which has caused numerous creators to step forward with their own stories of burnout.
Content creators are under an enormous amount of pressure daily or risk obsolescence due to algorithms that favor consistent activity. While the top creators make a comfortable wage, it takes a lot of labor to remain relevant. Olga Kay, for instance, says she produces 20 videos a week.
YouTube is not the only platform where taking a break can mean losing out on potentially thousands of dollars. Tyler Blevins, the Fortnite streamer who plays under the alias "Ninja", said he lost 40,000 subscribers in less than two days because he was busy at E3 2018.
Saqib "LIRIK" Zahid operates the biggest channel on Twitch with over 2 million followers, but in January, he shocked fans when he tweeted about feeling directionless and exhausted.
Streaming's burnout problem has stirred some platforms into action. YouTube launched a series of videos to address mental health issues with creators. Kati Morton, herself a YouTube creator and licensed therapist, laid out ways to identify burnout.
However, there is still a greater question of how new media may be changing the rules for entertainers. In the quest for content, some creators have unwittingly become content themselves. Twitch streamer Kaceytron suggested that the live chat feature of Twitch has caused fans to view her as a sort of service provider.
"I think that since the perspective from a lot of fans is that full time streamers have it so easy," Kacetryon told Kotaku. "They feel that streamers should be doing more, or they see being constantly connected to their fanbase as being part of the 'full time streamer' job title, so it's the least they could do."
McLaughlin isn't the first streamer to suffer burn out, and he won't be the last.