Prime Day: Amazon Offers DNA Testing at Bargain Basement Prices
The deals illustrate booming interest in hi-tech consumer science.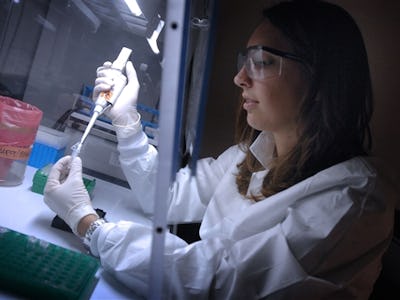 Department of Defense
Spitting into a test tube and shipping it off to a corporate lab is all the rage as various companies compete to dissect your genetic information and sell it back to you, and Monday, Amazon is making that trend more accessible to bargain hunters with its Prime Day deals.
Starting at 3 p.m. Eastern on July 16, Prime members will be able to save 50% on 23andMe's premier "Health + Ancestry Personal Genetic Service Kit," coming in at $99.99. AncestryDNA's "Genetic Testing Kit", will be on sale for $54.99, down from $99.
Last year, the deals were some of the best on the site, targeting consumers at a more affordable price point and giving them access to the booming industry.
The Rise of Consumer Genetics
Amazon's deals reflect an industry that has exploded in the last year, and are a crucial part of the expanding business.
According to MIT Technology Review, the number of people who have used a consumer DNA analysis kit doubled in 2017.
Out of its yearly total of 7 million kits sold, Ancestry.com sold 2 million of those in the last quarter of 2017. 1.5 million were sold during Black Friday weekend when the company offered its kit for 40% off.
According to a report from consumer research company Kalorama Information, the consumer genetic testing industry could triple in size by 2020, going from an estimated $99 million today to $310 million.
It's For Your Health
According to Gizmodo, Kalorama's report suggests that the recent rise in sales is attributable to regulations that have caught up with people's desire to access health indicators tied to their genetic information.
In 2013, the Food and Drug Administration banned 23andMe from selling kits analyzing health outcomes based on genetic information, citing fear over "potential health consequences that could result from false positive or false negative assessments for high-risk indications such as these."
In April 2017, 23andMe gained approval from the FDA to begin selling its health tests again.
Risky Business
While the trend illustrates the power and allure that modern science can have in our everyday lives, it doesn't come without risks.
In June 2018, a data breach compromised the user information of 92 million accounts on MyHeritage.com — a company that provides genetic testing kits. According to the company, there was no evidence that the data was used to expose genetic information, but the breach took us one step closer to the dystopic possibility that the intimate details of our DNA could be stolen by bad actors.
In November 2017, before Facebook's privacy scandal, Senator Chuck Schumer (D-NY) called on the Federal Trade Commission to "take a serious look at this relatively new kind of service and ensure that these companies can have clear, fair privacy policies."
In June 2018, the FTC indicated that they may be investigating genetic testing companies in a response to a FOIA request by [Fast Company(Prime Day: Amazon Offers DNA Testing At Bargain Basement Prices), denying the request "because disclosure of that material could reasonably be expected to interfere with the conduct of the Commission's law enforcement activities."
Whether or not you plan on taking advantage of the Prime Day deals on genetic testing, you probably won't be able to escape the trend. You're bound to see a friend or relative spitting into a test tube on Instagram in 2018. Thanks, Amazon.
Correction: The 23andMe kit that is on sale is $99.99. A previous version of this article incorrectly reported that it would cost $99.50.