Pussy Riot Reveals Reason for Disrupting World Cup Final in Front of Putin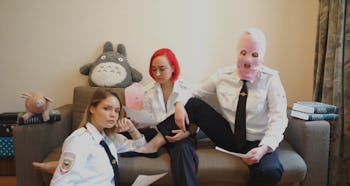 YouTube
After VAR controversy, a Fortnite dance, and and France's second-ever World Cup win, other big story from Sunday's match was when members of the Russian punk and political activist group, Pussy Riot, ran onto the field just after the start of the second half, with Russian President Vladimir Putin and a global audience watching.
It was right before the 52-minute mark on Sunday's World Cup 2018 Finals match when one man and three women ran onto the field. Unlike some streakers who run into a field in the nude, these people wore police uniforms as they rushed the field while being chased by the real security. The action of the match stopped as law enforcement tackled the group and dragged them off the field. Not long after the distraction, the Pussy Riot Twitter account claimed it was members of the group that took to the field in what was called "Policeman enters the Game."
"Just a few minutes ago four Pussy Riot members performed in the FIFA World Cup final match," the post states on the group's Facebook page. " Today is 11 years since the death of the great Russian poet, Dmitriy Prigov. Prigov created an image of a policeman, a carrier of the heavenly nationhood, in the Russian culture."
The post goes on to describe the reason for the outfits as depicting the "heavenly policeman" who protects the people of his country while the "earthly policeman" looks to imprison them. It also has a list of demands that includes all the political prisons to go free, to stop illegal arrests on rallies, to allow for political competition in the country, and to not fabricate criminal accusations in order to keep people in jail for no reason.
A statement from Moscow police says the protestors have been detained, according to the New York Times. A Twitter video shows one member interrogated by police and claims an officer says, "It's a shame it isn't 1937 anymore."
With France winning the FIFA World Cup, many animals that predicted Croatia to win must have had some problems with their psychic powers.