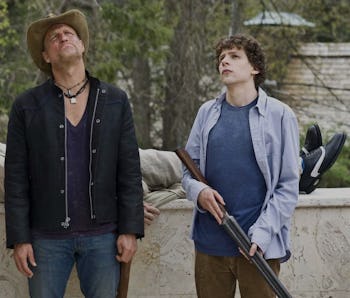 Entertainment
5 Things to Know About the Long-Awaited 'Zombieland' Sequel
It was in 2009 when Zombieland premiered,, starring the fresh faces of Jesse Eisenberg and Emma Stone as well as Woody Harrelson,, back when people didn't consider him one of the finest actors alive. It took nine years, but a sequel is now officially in the works.
Zombieland 2 is a go according to The Hollywood Reporter on Friday. The sequel to the comedy zombie flick was a hit at the box office earning just over $100 million in ticket sales with a budget of $23.6 million, and critics loved it, too, giving it a 90 percent rating on Rotten Tomatoes. After years of rumors, the announcement was able to confirm its production as well as a few fan theories. After years of rumors, the announcement was able to confirm its production as well as a few fan theories.
The Fab Four Are Back
The original survivors from Zombieland will return to star in the sequel. Eisenberg will reprise the role of Columbus, a bit of a nerd who came up with rules to survive the apocalypse and ultimately became a hero. Harrelson is back as the ultraviolent Tallahassee whose journey for Twinkies made many forget the real tragedy in his life after the apocalypse. Stone and Abigail Breslin will again play sisters Wichita and Little Rock who started off hustling Columbus and Tallahassee, but eventually came together to survive a zombie attack at the Pacific Playground in order to become a family.
The Director Will Also Direct the Venom Movie
Ruben Fleischer got his big shot at directing with 2009's Zombieland. Since then he's directed a few forgettable movies such as 2011's 30 Minutes or Less and 2013's Gangster Squad, but his upcoming gig as the director of Venom will be the talk of the town when it comes out later in October.
Thank Deadpool for This Sequel
Rhett Reese and Paul Wernick will return as writers. In 2015, Sony Pictures first announced plans to revive the sequel, but it was slow to get moving. It appears that thanks to the success of Reese and Wernick's work on both Deadpool movies, they were able to get Sony to move the ball a little faster to start work on the sequel.
New Zombies
In the original, a mutated version of the mad cow disease was the source of the zombie outbreak. The sequel will show new zombies that transformed since the beginning of the apocalypse.
From DC to the Midwest
According to The Hollywood Reporter, Zombieland 2 will start off in Washington DC, which is on the opposite coast from LA where the original left off. The group will make their way to the Midwest, which might mean Columbus will make his way back to Columbus, Ohio, where his family is located.
Zombieland 2 will release in October 2019, which would be 10 years since the release of the original.