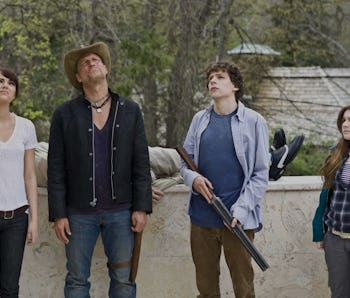 Entertainment
Sony Is Still Working on 'Zombieland 2,' but It's Slow Going
We haven't heard anything about a sequel to 'Zombieland' in the year since it was announced, but the talent behind the first film assures fans that it's still going to happen.
http://www.gmanreviews.com
About a year ago, Sony announced plans for a sequel to 2009's sharp undead comedy, Zombieland. Since then, the title has gone underground, the delay in news leading most fans of the series to believe that the film had been lost to development purgatory. Yesterday, however, the film's original screenwriters, Rhett Reese and Paul Wernick, put stagnation worries to rest when they proclaimed that Zombieland 2 was still very much in the works.
The catch, however, is that there's no real rush to get the sequel into production. No one is rushing through a script and the film's producers are still keen to get the entire cast back for the sequel. Since that would mean rounding up some of Hollywood's most sought after young talent (and Woody Harrelson), it might be a long time before we get to see Tallahassee and the gang busting undead heads.
The film's producers are also set on getting the film's original helmer, Ruben Fleischer, back in the pilot seat. Of course, that may be the easiest get of all, since Fleischer has spent the years since Zombieland directing a string of films, none of which merit a re-watch (seriously, how do you make Josh Brolin boring as a beat-'em-up detective?).
The real talent in the first film came from its kickass script and the actors hired to portray the characters. While none of the actors have signed up for a sequel — because why would they? — the original film's screenwriter, Rhett Reese (who also contributed to Deadpool), is still on board. That's the good news. The bad news is that the script is also being crafted by David Callaham, who's only claim to fame is his work on The Expendables and Doom. While those films are definitely fun watches, you'd be hard pressed to say that either was even remotely in the same neighborhood of quality as Zombieland.
At the end of the day, the announcement is good news. As Reese explained, "I think there's still very much talk about it, but I think it has to be right. I think all the actors and [original Zombieland director] Ruben [Fleischer], all feel like there's no reason to do it again if we're not getting it exactly right."
It seems the creative talents behind the project are committed to getting things right, which includes bringing back the entire cast. Since each of the original film's stars are doing pretty damn well in their own right (American Ultra excluded), it's a pretty safe bet that Zombieland 2 won't really be moving forward until there's something worth putting on screen.