Lakeith Stanfield Dancing Videos Are the Only Pure Thing Left Online
The 'Sorry to Bother You' star gets down.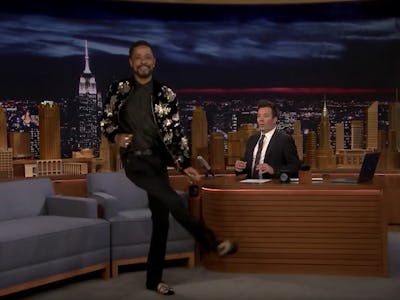 The Tonight Show Starring Jimmy Fallon
The internet circa 2018 is a pretty terrible place. Facebook is full of your racist relatives, Twitter is full of actual Nazis, and YouTube … well, let's not even get into what YouTube is like these days. But sometimes the internet can surprise you with something that's still pure and good. Something like Lakeith Stanfield (Sorry to Bother You, Get Out, Atlanta) and his joyous dance moves.
I found my first video of Lakeith Stanfield dancing on YouTube, of all places, in a Jimmy Fallon interview. One second Stanfield was talking about Sorry to Bother You, then a second later this happened:
The video quickly sent me down a rabbit hole of Google, YouTube, and Twitter searches for more videos of Lakeith Stanfield dancing, and I'm happy to share them with you here.
First, here's Stanfield dancing to his Atlanta costar Donald Glover's "This is America."
And here he is dancing to Drake's "In My Feelings."
And LCD Soundsystem's "Dance Yrself Clean."
Here he is doing what I guess could be considered dancing onstage at the Golden Globes.
Finally, here's Stanfield performing some sort of modern dance in a Spike Jonze video.
Stanfield doesn't just love to dance, he may actually owe his career to those moves. In that same Fallon video, he explains that he got the role in Atlanta after Glover saw him dancing alone at a club. Apparently that was enough to seal the deal, and the rest is history.
Sorry to Bother You is in theaters now.