Citizens Want Sun-Blasted Arizona to Run on 50 Percent Clean Energy by 2030
Can you believe the gall?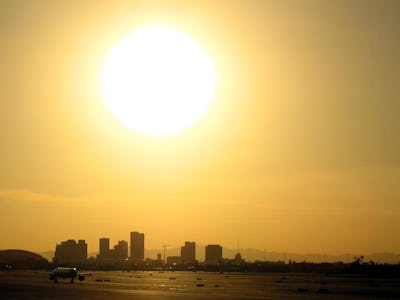 maliciousmonkey / Flickr
Hundreds of thousands of desert people petitioned Arizona's Secretary of State for a renewable energy measure. If approved by voters on a statewide ballot, the constitutional amendment would mandate that 50 percent of Arizona's electricity come from renewable resources by the year 2030. It's a banner moment in the history of the Arizona ballot initiative system and its sometimes questionable outcomes.
A full 480,464 citizens of Arizona signed the 2030 renewable energy petition — more than double the 225,963 signatures required to put it to a statewide vote this fall. At that point, it will need only a 50-percent majority to find its way into law.
In an interview with The Arizona Republic, Eric Spencer, Arizona's State Elections Director, described the volume of signatures his office received this year as "monstrous" and that the clean energy petition in particular as "nearing a record." Starting from the initiative's submission deadline last Thursday, the Secretary of State's Office has 20 business days to process the petition. After that, various Arizona counties have 15 days to vet the signatures.
Obviously, the proposal is facing some heated opposition from the state's largest utility (and now, incidentally, its biggest baby) the Arizona Public Service Co., whose representatives appear not to realize that they operate in a state that is desolate and spacious and under constant bombardment with highly energetic solar radiation. If Germany thinks they can pull off similar renewable energy goals, Arizona — with immensely more resources in the way of geothermal and solar — should find the transition to be a breeze.
(Let's get into it briefly: Arizona currently only meets 14.6 percent of its total annual energy with renewables — which primarily consists of massive hydroelectric plants like those at Glen Canyon and the Hoover Dam — according to the U.S. Energy Information Administration. If the dewy, moody skies above Germany are currently producing more solar energy than the bleaching heat raining down on Arizona (as it does by a few percentage points) than this issue is clearly more one of priorities than resources. According to the University of Arizona, about half of Arizona's total land mass is fit for passive heating from geothermal energy — and local geothermal industry groups and the Arizona State Geological Survey believe that geothermal could provide up to 33 percent of all the state's heating needs, as well as about 6 percent of its current coal-powered electricity load.)
But instead of getting behind the initiative, according to the Republic, APS has been conducting criminal background checks on the initiative's paid petition-gatherers in an effort to find any prior convictions that would invalidate their work under state law.
They've also focused their sights on the group behind the ballot drive, Clean Energy for a Healthy Arizona, and its main funder, the billionaire California environmentalist Tom Steyer.
Will it pass in the fall? Do you live in Arizona? Did you sign it? Do you care?
If your answer to that last question was "Yes," you can read full text of the proposed 5-page amendment here.