'Glass' Photos Hint at Twisting Fates for 'Split'and 'Unbreakable' Stars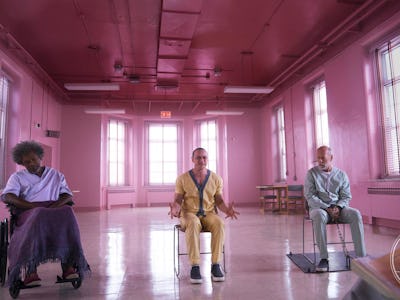 Universal
The first poster for Glass showed the Unbreakable and Split characters in dire straits, but the first official photos of M. Night Shyamalan's highly anticipated sequel reveal that the titular character will be looking sharp at some point, at least.
Entertainment Weekly debuted the first pictures on Thursday morning, and while one of them does show Kevin Wendell Crumb/the Horde (James McAvoy), David Dunn (Bruce Willis), and Mr. Glass (Samuel L. Jackson) undergoing therapy in what looks like some sort of facility, another shows Mr. Glass wearing a bomb-ass purple suit befitting a self-proclaimed supervillain.
It's not the first time that dedicated fans have seen Jackson sporting this look, as paparazzi pictures from the set made the rounds online back in November of last year. Still, this official first look offers a much more clear view of the brilliant, frail baddie. It's very Prince-esque, only the late musician used his fly powers for good.
However, another picture shows a much more disheveled Mr. Glass inside of a facility alongside Kevin and David. Kevin appears to be adopting his Hedwig personality rather than one of the more vicious ones, which might explain why he isn't chained up the way David is. Still, that seems like a risk, given that the Beast is extremely deadly and strong.
It's unclear if this scene happens before or after Mr. Glass looks fresh on the outside.
Another photograph shows Anya Taylor-Joy, who returns as the Horde's kidnapped victim. She appears to be visiting Kevin in whatever facility he's locked in, and seems to have some sort of compassionate connection with him, despite the hell he put her through in Split. Maybe it's because of the abusive connection they share?
There are additional photos over at EW, though chances are we'll learn a lot more about Glass at San Diego Comic Con ahead of its 2019 release.