'Glass' Movie Poster Reveals 'Split' and 'Unbreakable' Characters' New Look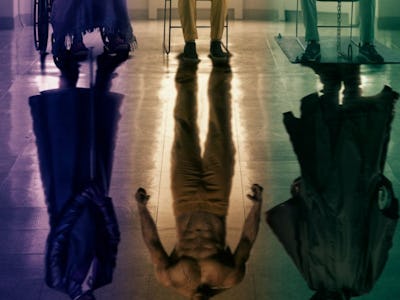 Universal
Split shocked audiences when it came out in 2016, and not just because it was a thrilling return to form for M. Night Shyamalan, but because the big twist revealed that the film was secretly a sequel to Unbreakable, one of the director's earliest and most-beloved works. But, Bruce Willis' appearance was really just a glorified cameo, and it's up to the next movie in the series, Glass, to bring all the characters together for real. The first poster does just that.
On Friday morning, Shyamalan announced on Twitter that Glass would be at San Diego Comic Con on July 20. "But, if you need your #GlassMovie fix before July 20th, here's the world premiere of our teaser poster," he said in a follow-up tweet.
The poster shows the three main characters from the films. James McAvoy's Kevin Wendell Crumb is sitting in the center, and based on his posture it appears that he's currently the childlike personality "Hedwig" rather than one of the more violent personas that make up the Horde. However, a grim reflection on the ground reveals that the Beast is still in there.
McAvoy is flanked by the two Unbreakable characters, with Samuel L. Jackson's brittle supervillain Elijah Price seated in a wheelchair on one side and Willis' David Dunn sitting calmly on the other. Dunn is chained to the floor, perhaps a precaution due to how strong he is. The reflections of these two characters show them in more intimidating poses as well, but are these reflections of the past, or omens of what's to come in Glass?
Glass hits theaters on January 18, 2019. It's possible that we'll see a trailer after the July 20 Comic Con presentation.