The Papa John's Dude Has Resigned After Saying N-Word During PR Exercise
His defense was a familiar script we've read before.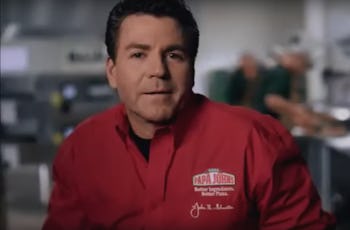 Papa John's
Papa John's founder John Schnatter has seen himself in hot water before, but this time, he's landed straight into mouth-burning molten cheese territory in the dumbest way possible. Now, he's paying the price.
Schnatter resigned as Papa John's chairman hours after issuing an apology for using the n-word during a corporate exercise specifically designed to improve his public relations skills.
His mea culpa echoed statements from other public figures who have been called to task for using ethnic slurs, fitting into a larger trend of framing racist incidents as mistakes, that are simply "inappropriate" and "hurtful" despite their extreme origins — being screamed at victims of lynchings and pogroms.
The exercise itself was a response to Schnatter's comments in a 2017 conference call, when he blamed NFL players kneeling during the national anthem for his company's flagging quarterly performance. Papa John's had been the official pizza company of the NFL since 2010. In February 2018, that contract was canceled.
The training was administered over a call as a joint effort between Papa John's leadership and marketing agency Laundry Service. During the call, Schnatter was asked how he would deal with racist groups aligning with him online, which is probably referring to that time when Neo-Nazis declared Papa John's the official pizza of the alt-right. Schnatter complained that another fast food icon never got criticized for using the n-word, a point he drove home by… Using the n-word.
"Colonel Sanders called blacks n——-s," Schnatter said in the conference call.
He then went on to describe the fatal violence committed against black people in graphic detail during his childhood in Indiana. Apparently, Schnatter thought sharing these anecdotes demonstrated a solidarity with minorities. Some of the people on the call disagreed.
The pizza mogul confirmed the statements he made in an email to Forbes.
"News reports attributing the use of inappropriate and hurtful language to me during a media training session regarding race are true," he said. "Regardless of the context, I apologize. Simply stated, racism has no place in our society."
Late Wednesday night, Papa John's independent directors accepted Schnatter's resignation, according to The New York Times.
Other public figures have offered similar apologies in the past. In 2015, Madonna, attached the hashtag "#disni**a" to a picture of her son on Instagram. In her apology, she said her intentions were good: "It was not meant as a racial slur.. I am not a racist. There's no way to defend the use of the word. It was all about intention.. It was used as a term of endearment toward my son who is white."
After a "raw" 2010 Playboy interview, John Mayer apologized for telling this anecdote: "Someone asked me the other day, 'What does it feel like now to have a 'hood pass?' And by the way, it's sort of a contradiction in terms, because if you really had a 'hood pass, you could call it a n**ger pass." He excused himself by calling it a failed intellectualization, and promising his intentions were pure: "I am sorry that I used the word. And it's such a shame that I did because the point I was trying to make was in the exact opposite spirit of the word itself."
Schnatter, Madonna, and Mayer described their usage of slurs as well-intended and none of them referred to the slurs as racist. Although the backlash they received could be interpreted as a growing awareness of inequality in the American public. However, white Americans have changed little in their attitude towards race. It's more likely the backlash is from empowered minorities, who can engage in public discourse in record numbers now thanks to social media.
Given Schnatter's history, his current predicament is hardly surprising. Luckily, the continued expansion of social media means that more minorities will be part of the discourse to encourage punitive actions in incidents like Schnatter's.