'Star Wars: Episode IX' Set to Bring Back a Major Character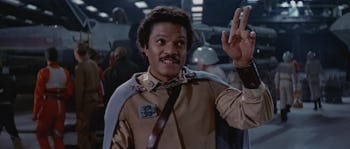 StarWars.com
Move out of the way, Donald Glover. The original Lando is coming back to the Star Wars franchise, and he's going to make it as cool as the other side of the pillow.
Billy Dee Williams will return to the Star Wars franchise in Star Wars: Episode IX according to The Hollywood Reporter on Monday. Williams last played the role of Lando Calrissian in 1983's Star Wars: Return of the Jedi. Glover played a younger Lando in Solo: A Star Wars Story, which debuted back in May. Sources with the entertainment outlet confirmed the news about Williams return along with a recent cancellation at a convention by the actor, citing a scheduling conflict with a movie shoot.
The first rumors about Williams reprising his famous Star Wars role came back in June. Fansite Fantha Tracks reported the rumor of the 81-year-old actor would return to the franchise. In May, MegaCon Orlando tweeted in May how Williams was training three times a week and was on a new diet.
It's unclear whether an older Lando was part of the original plan for the new trilogy, or if the portrayal of the younger Han Solo buddy by Glover in Solo was the catalyst for the return to the main franchise. While the spinoff story didn't fare well with the critics, most did cite the actor/rapper's performance as one of the bright spots of the film.
Episode IX will release on December 20, 2019. J.J. Abrams will be in the director's seat for the second time as a replacement for Colin Trevorrow, who was let go from the production last September.
The final movie of the new Star Wars trilogy could be an important one for the franchise. Although Star Wars: The Force Awakens and Star Wars: The Last Jedi had huge numbers at the box office, the spin-off films are proving to be less successful and put on hold plans to release several other Star Wars movies.