Helen Rodríguez Trías: How the Physician Became the "Face of Women's Health"
She worked for decades to improve the well-being of women.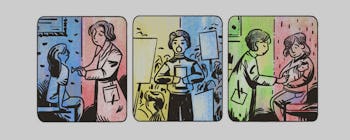 Google
In 1973, the fight for women's reproductive rights went to the highest court in the country in Roe v. Wade. Among the many people who fought for women's access to healthcare, Helen Rodriguez Trias stands out as a physician whose innovation and activism helped shape the discourse for women's health. For these achievements, she was honored in Saturday's Google Doodle.
Helen Rodriguez Trias was born on July 7, 1929, in New York City but spent her early years in Puerto Rico. After receiving her medical degree in 1960, she established the first center for the care of newborn babies in Puerto Rico at the University Hospital in San Juan. When Rodríguez Trías returned to the US in 1970, she became an activist for reproductive rights, especially for women in Puerto Rico, after she discovered they were being sterilized in a US government project to study birth control technology.
Law 116 went into effect in Puerto Rico in 1937, which called for legalized sterilization in order to control the island's overpopulation. As a result, Puerto Rican women received forced sterilizations and became test subjects for various reproductive drugs developed by pharmaceutical companies including the combined oral contraceptive pill, known better as "the pill." In 1974, The US Department of Health, Education, and Welfare — now known as the Department of Health and Human Services — reported 37 percent of Puerto Rican women of childbearing age had been sterilized.
Trias, along with other health professionals, formed the Committee to End Sterilization Abuse in 1974. The committee fought for the reproductive rights of women in Puerto Rico and helped write guidelines for sterilization practice, which were used across the nation in 1978.
After helping to end forced sterilization in Puerto Rico, Rodríguez Trías spent the '80s working for the rights of minority women infected by the HIV virus. Then in the '90s, she was the co-director of the Pacific Institute for Women's Health, which improves the sexual and reproduction health and the well-being of women both locally and worldwide.
Trias died on December 21, 2001. Her work made great strides for women's reproductive rights, however, that fight might become reignited once again with the retirement of Supreme Court Justice Anthony Kennedy at the end of June.