European Union Rejects Meme Ban — For Now
It's a big win but the battle is far from over.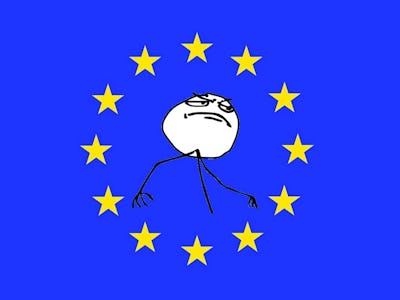 Jonathan Lee, Inverse
The European Parliament rejected the controversial copyright reform bill on Thursday, according to Politico. The decision is a clear victory for critics who claimed that the proposed bill would ban memes from the internet, but the issue is far from settled.
On June 20, the European Parliament Committee on Legal Affairs voted yes on Articles 11 and 13 of the EU copyright proposal, pushing it forward in the legislative process. Axel Voss, the EU rapporteur spearheading the reform, said that the reforms would reduce copyright infringement without compromising memes, which he claimed would be protected under pre-existing parody laws.
Julia Reda of the awesomely named Pirate Party argued that the stipulations in the proposal would override those pre-existing laws, which essentially means that memes would be banned. Voss has dismissed these concerns as "fake news".
The debate wasn't just restricted to politicians. Activists and internet pioneers banded together and delivered an open letter entreating European Union Parliament president Antonio Tajani to reject the proposal. On the other hand, musicians and record executives urged the European Parliament to adopt the measure out of interest of their own intellectual property. Paul McCartney wrote his own open letter in favor of the reform.
Reda fought the June 20 decision by invoking plenary, a procedure that can be used to contest the Committee on Legal Affairs by expanding the vote to all of Parliament. The opposition won with a slim margin: 278 in favor, 318 against, and 31 abstention.
Plenary victories are rare, which makes this a big win for Reda and the opposition, but they are not final. The July 5 decision takes the reform bill back to the drawing board, not the chopping block.
The European Parliament is entering a summer recess for the next few weeks and will reconvene in September to debate the reform bill and vote on any further changes, but both sides are already scrambling to drum up support. Reda has organized a #SaveYourInternet campaign for August 26, encouraging critics of the bill to speak up and voice their concerns. Shortly before the June 5 outcome, Voss shared a video from singer-songwriter James Blunt, who supports copyright reform.
Whether the copyright reform will be amended, passed, or outright killed in September is anyone's guess. If the close results of the plenary vote are any indication, then the proposal will continue to be a polarizing piece of legislation that will be hotly contested for years.