Why 'The First Purge's Breakout Star Refused to Watch the Old Purge Movies
Here's why Skeletor was so freaking scary.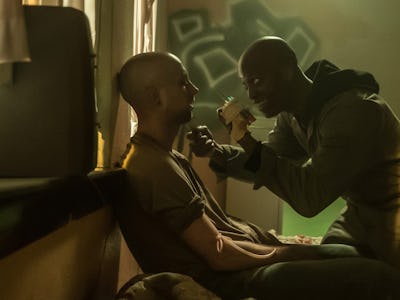 Universal Pictures
There's a lot to cover when talking about The First Purge, from the film's powerful political message to its bumping soundtrack, but the most exciting thing about this movie may be Skeletor. The terrifying, blood-thirsty villain manages to steal the show, even if he's only in a handful of scenes, but the actor who brought this character to life had an interesting method: He refused to watch the previous Purge films.
In an interview with Pop-Culturalist, actor Rotimi Paul revealed that he had never seen any of the Purge movies when he got the role. After that, he decided not to watch them intentionally as part of his acting method.
"I made the choice to wait until we wrapped shooting to go watch all of them," he said in an interview. "I didn't want to be influenced by any of the characters that already existed in that world and it also made sense based on the timeline because everything that we shot comes before the other films, so they wouldn't have much relevance to the time period in our film."
Paul added that even though he hadn't seen the movies, he was still pretty familiar with the Purge concept. Afterwards, he sat down and watched the previous three films. He says his favorite is Anarchy (the second in the series) — after The First Purge, of course.
In a separate interview with Dread Central, Paul also talked about the audition process, revealing that he actually rode the New York subway system in full character makeup to his first audition. Anyone who's seen The First Purge can probably imagine how scary that might be.