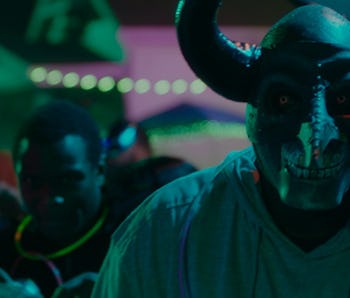 Entertainment
'The First Purge' After Credits Scene Sets Up the Sequel and Adds a Surprise
Make sure you still around until the very end.
Universal Studios
If you're about to see The First Purge in theaters or you just finished the film and you're ready to get up and go, you may be wondering whether there's anything waiting for you after the credits. Horror movies don't typically bother with those after-credits scenes that Marvel loves so much, but in this case it's worth staying put for a few extra minutes.
The First Purge is part of a franchise, after all, and that means there's plenty to set up and establish for future releases even after the credits start to roll. If you'd rather experience those extra Purge nuggets for yourself stop reading now. But if you just want to know what comes after the credits, keep on scrolling.
Warning: Spoilers for The First Purge and its after-credits scenes ahead.
The first bit of after-credits tease comes just moments after The First Purge ends (it's more of a mid-credits scene, to be honest). We see one of the leaders of The New Founding Fathers speaking at what looks like a press conference focused on the results of the first Purge experiment. He claims that the test was a huge success and goes on to state that the government is actively looking into expanding the idea into a nationwide purge, which could happen in as little as a year.
Sounds like a sequel to us.
Then the credits return, but there's still one more surprise. Sit through the entire thing and you'll get an exclusive new trailer for The Purge TV show, a 10-episode mini-series coming to USA Network this fall. The network already released one trailer, which you can watch here, but this new teaser is a little more cinematic. It should also come as a big surprise for anyone who didn't already know a Purge TV show was in the works.
It's possible USA will release this new trailer online after The First Purge hits theaters, but for the moment this appears to be the only way to watch it.
The First Purge is currently in theaters.