Amazon Prime Day 2018: Smartphones, Tablets Among Expected Deals
Jeff Bezos' firm is prepping another day of deals.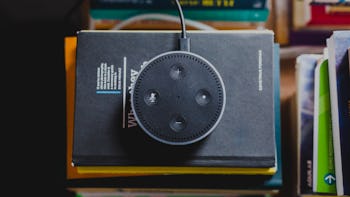 Unsplash / Andres Urena
Amazon Prime Day is back. The online store conglomerate is promising a treasure trove of savings for its annual shopping event, with deals expected on a number of gadgets, smartphones, tablets, and more. Subscribers to the $119-per-year service are set to visit the store in droves after the success of last year's event.
Prime Day is set to be one of the biggest shopping events of the year. The event is set to start on July 16 at 3 p.m. Eastern time, running for a total of 36 hours, six hours more than last year's event. While normally the event runs close to the start of July, there's a chance the FIFA World Cup has pushed off the festivities for a bit longer to allow for maximum exposure.
"New this year, members can shop exclusive Prime Day Launches from hundreds of brands worldwide, enjoy exclusive savings at Whole Foods Market and experience surprise entertainment events unboxed from giant Smile boxes in major cities," Jeff Wilke, CEO of Amazon Worldwide Consumer, said in a statement. More than 100 million paid Prime members around the world will find our best Prime Day celebration yet."
Here's what's in store:
Twitch Games
Amazon Prime gamers will be pleased to hear that Twitch is offering a slew of free PC games every day until July 18. Players can access Pillars of Eternity: Definitive Edition from July 2 to 4, Q.U.B.E. 2 from July 3 to 9, and an SNK bundle that includes The Last Blade and Metal Slug 3 from July 3 to August 2.
Amazon is teasing that a new free game will hit the service every day until the end date, with Brutal Legend another title up for grabs. Members can also take advantage of loot for games like Warframe and Playerunknown's Battlegrounds.
As is the case in most years, Amazon is likely to offer a range of savings on its own-branded products. It's an ideal opportunity to make big savings on Kindles, Echo Dots and more. Amazon is teasing "double the deals" on its own-brand devices, plus "the biggest deals yet on Alexa-enabled products like Echo, Fire TV and Fire tablets, in addition to new categories from home security to Echo devices with screens."
This is likely to be the best time to jump into the Amazon ecosystem. The company last year offered steep savings on the Echo Dot, the miniature smart speaker system, dropping the price to $34.99 down from $49.99. Similarly, the Fire 7 tablet dropped from $49.99 to $29.99. Those looking for big savings are in for a treat.
Amazon is starting with a number of deals starting this week until Prime Day. These include:
Exclusive Prime Day Smartphone Launches
Amazon is offering a number of exclusive smartphones and smart home products as part of its Prime Day offerings. These include:
Whole Foods Discounts and Savings
Whole Foods, the grocery chain store purchased by Amazon in August 2017, is offering a slew of savings to Prime customers. For Prime Day, shoppers will see 10 percent savings on hundreds of items by visiting the store and scanning the Prime Code with the Whole Foods Market app on their smartphone. The company is also offering big rewards for shoppers using an Amazon Prime Rewards Visa card. When shopping at the store, users will receive double rewards at 10 percent back on up to $400 worth of purchases.
The move follows on from last week's announcement that Whole Foods will start rolling out nationwide discounts for Prime members. It seems the store referred to as "whole wallet" for a number of years may finally offer steep savings for its customers.
Gadgets and More
The company is likely to stock a large number of gadgets, TVs, smartphones tablets and more as part of its savings. Some of the deals from previous years include a Samsung 28-inch 4K LED monitor for $279.99 down from $369.99, an unlocked Samsung Galaxy S8 with Gear VR bundle for $624.99 down from $887.54, a PlayStation 4 controller for $39.99 down from $64.95 and a Samsung Gear 360 VR camera for $109.99 down from $349.99.
Be sure to check the Amazon app regularly throughout the day for Spotlight and Lightning deals as they emerge, with 50 percent more Spotlight deals scheduled for the day.