Pornhub's Parent Company Is Getting Into Creepy Hentai Gaming
The largest online hentai gaming platform has a new in-person art gallery.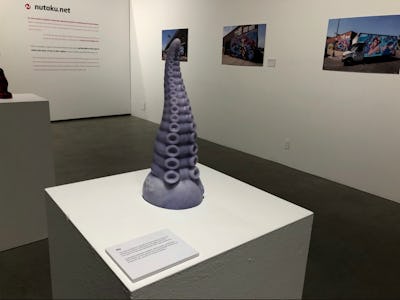 Connor Perrett
Mobile porn is the American man's best-kept secret. 79 percent of 18 to 30-year-old men watch it monthly, but it's unlikely you could pick those 8 out of 10 men in your life who do out of a lineup. And out of those men (and 8 percent of women) could you say for certain how many prefer cartoon women, tentacle porn, and online gaming, as opposed to the standard video fare?
Warning: images after this point contain blurred NSFW hentai.
According to Nutaku, the largest online hub of hentai gaming, there are more consumers of anime-inspired porn than you think. 50 million monthly visitors access their stock of VR, roleplay, strategy, and combat games, all of which are accompanied by scantily clad cartoon women, vulgar animated sex scenes, and jaw-dropping, colorful dialogue.
Nutaku's parent company, Mindgeek, also owns PornHub. Like their infamous sister site, which hosts hits like Kim Kardashian's sex tape, Nutaku has chosen to advertise its services through unique public stunts. Both sites recently announced a Verge cryptocurrency payment option. PornHub has advertised in Times Square and, most recently, with an interactive art installation in LA. Nutaku opened its own art gallery in SoHo over the weekend, and Inverse was invited to their launch party. Of course, we had to check it out for ourselves.
Inside an Anime Porn Art Gallery
From outside the Chipotle-sized gallery, you can see renderings of naked women projected on the walls, drawn in the digital Japanese anime style, with huge, cartoon breasts, pale skin, and childlike expressions. The clear glass storefront feels wrong. Shouldn't a place like this entertain some notion of censorship? Do passerby really need to be subjected to hyper-sexualized cartoon women?
It takes a lot to unnerve me. My Generation Z status makes my shock value threshold exceptionally high. But walking into the "artistic nonconformist" hentai gallery had me wary. The classics, including "The Mona Lisa," "The Birth of Venus," and "The Creation of Adam," were reimagined with waif-like, vaguely Asian girls, exposed extremities, and anal penetration — all while a DJ in the corner spins a pounding remix of "I Don't Know, But I've Been Told" among other acoustic reimaginings.
There's also a sushi table with complimentary champagne, dildos shaped like tentacles, 10-inch tongues, one artist's rendering of the Stranger Things' Demogorgon's penis, and photographs of hentai-inspired graffiti. A representative for the Brooklyn-based PR agency for Nutaku tells Inverse that a lot of the hentai-inspired works on display involve women having sex with monsters, tentacles, and all manner of creepy creatures.
The day after I went to "Hentai Is Art," I went to the MoMA and saw just as many if not more vaginas. The difference was, that the only value Nutaku's gallery seemed to care about was shock.
While monster sex isn't necessarily abhorrent, the style of this monster sex was. Women being choked and held against their will by writhing appendages. Painful sex, borderline cultural appropriation (hentai is illegal in Japan, and most of the women pictured had overwhelmingly European features), objectification of lesbians — it was work clearly made with male consideration at the forefront.
I tried out a few games and nearly chucked the tablet after my fifth or sixth sexual cutscene. In one memorable animation, a woman dressed in the bargain bin sexy Halloween costume version of a military general's uniform asked my player to "conquer her" and, well, you can imagine what happened next.
A Growing, Explicit App Genre
All of the "Hentai is Art" employees were young women. The 5W spokesperson urged me to try out the tablets that Nutaku had pre-loaded several of their Android gaming apps onto. She recommended one that was clearly based on Candy Crush, with the simplistic gameplay of matching colorful symbols to gets points, which you could use to buy your "girlfriend" sex toys, lingerie, and, of course, her affection.
Hentai was the second most-searched term on PornHub last year, and Nutaku boasts a rapidly growing user base. 5W tells Inverse that the numbers are expected to reach 70 million, and that so many people are into hentai and, specifically, hentai gaming, that it makes sense to have a gallery promoting their games. Of course, the female employees at the gallery don't play the games for adult entertainment purposes. It's their job.
As I left "Hentai Is Art," I thought about how there were no men working the exhibit, save the sushi chef. It was all women in their 20s, who don't actually like the content they're helping to advertise. The games were clearly created for men, as the female characters address the user as "sir" and "mister." Through the dressings of fine art and the presence of females, Nutaku tried to obscure the fundamental nature that the male gaze played in this content. Perhaps because these women are cartoons ostensibly from another culture, their creators have given them higher standards for abuse, but from a human woman's perspective, its painfully obvious that these depictions display what could only live in the realm of dark fantasy.
Correction 7/12/18: In the original version of this article, it was stated that both PornHub and Nutaku announced a bitcoin transaction option, when, in fact, the sites accept Verge cryptocurrency. This article has been edited to reflect that fact.