Pornhub's Futuristic Art Installation Has Pornstars as Presidents and Zero Gravity Space Sex
What could be sexier than intergalactic travel?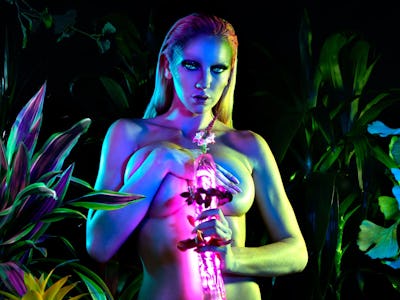 PornHub
For Pornhub, the future is full of freaky sex. And they want you to experience that, live and in person, at an interactive art installation where democracy and space exploration meet BDSM and intergalactic dildos.
Inside an LA nightclub, you'll find Pornhub Nation, 3,000 square feet of exhibits you can ogle at, feel up, and roll around in. Seriously, there's a ball pit. Seven rooms offer virtual reality games, sex dungeons, and a jungle lounge. There's even a bar!
"The past is boring. So is 2018. We're all about 2069," conceptual artist Ryder Ripps tells Inverse. Ripps' work is sometimes controversial, oftentimes viral, and seemingly suited to turning Pornhub into a "futuristic, utopian society."
Along with artist Maggie West, who specializes in experimental lighting and installation techniques, Ripps approached Pornhub with an experience that includes hitting VR Harvey Weinstein with a VR dildo to get a tax return and gazing up at portraits of pornstars Riley Reid, Asa Akira, and Joanna Angel as government officials.
The backstory of the exhibit is described as "a brave, dedicated, and horny sect of digital settlers" creating a nation that prioritizes sexual liberation and condemns social hierarchies, oppression, and gender norms. Which is kind of ironic for a service that advertises lots of fictionalized abuse toward overwhelmingly female sexual partners as, well, porn.
Ripps says there isn't an explicit political slant to the installation, "but politics are inevitably a part of society and one can only hope for hoping for a more fun and egalitarian political atmosphere in the future."
This isn't the first time Pornhub has experimented with futuristic features to garner media buzz and remain one of the most-trafficked porn sites. In the past year, they've debuted VR porn, machine learning for video tagging, and teledildonics.
"Experiential type exhibits are becoming increasingly popular and we were excited for the opportunity to create our very own with the skill and imagination of two prolific artists," Corey Price, Pornhub's vice president, said in an email. "Pornhub Nation excites all the senses and ignites the imagination."
From July 14 to August 17, if you're 21 and older, you can buy a $27 ticket for an hour's worth of exploration. Exhibit themes include the National Security ASSociation, a mirrored room with live security feeds of the other exhibits, the ASSA space station exploring zero gravity sex, and, of course, the Domination Masochistic Vroomvroom (DMV), which is how we all feel about the DMV already.
"We're hoping visitors walk away not only thoroughly impressed, but also with a deeper admiration for their favorite adult entertainment company," Price said.