Facebook Admits to Giving Restricted User Data to Nike, UPS, AOL, and More
Some companies still have access to the data.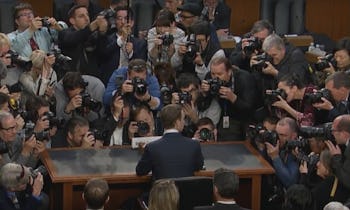 Flickr / ahhhnice
In June, Facebook disclosed that it had shared user data with more than 60 companies. Thanks to new documents from the social media company, it's clear that Facebook had made deals with popular brands and app developers that went beyond 2015 when the company announced it would cut off access to users' personal information.
The Wall Street Journal reported on Sunday that Facebook submitted to Congress 747 pages of documents that included special arrangements made with app developers for access to its users' data. What the documents showed was the social media company continued to allow companies such as Nike, UPS, and AOL access to personal information after it announced it stopped the practice back in 2015.
There were 61 companies listed that had their access to Facebook user info extended past the May 2015 deadline in order to bring their up to compliance to the social media platform's new policy. The data available to entities included user's friends, page likes, birthday, current city, and more. While 38 of these special arrangements have ended, several companies still have access to the data such as Amazon, Apple, and Alibaba.
The revelation about the continued access to user data comes months after the Cambridge Analytica scandal. The data firm connected to the Trump campaign purchased data for an estimated 87 million Facebook users to be used in the 2016 election. This led to a Congressional hearing with Facebook CEO Marc Zuckerberg testifying about his company's role in the election, how a company can access user data, and to what lengths the platform will go to protect individuals' privacy.
It's unclear on how the news of these deals with app developers will affect Facebook. It was the House Energy and Commerce Committee that received the documents and members of the committee have yet to comment on it.
News of these special deals may cause a further decrease in Facebook usage. New research found teens flocked to Instagram and Snapchat over Facebook.