Why /r/The_Donald and 4chan Are Protecting the 'Capital Gazette' Shooter
Posters on /r/The_Donald and /pol/ won't condemn white shooters.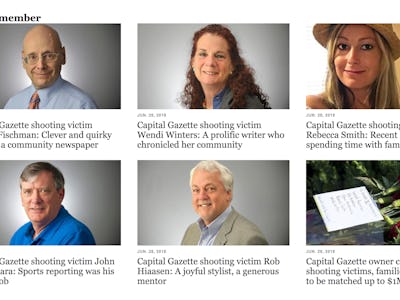 Capital Gazette
On June 28, a man entered the newsroom of The Capital Gazette and murdered five people in what would be the 154th mass shooting in 2018, but in what has become a disturbing pattern, /r/The_Donald and 4chan's /pol/ have either downplayed the event or called it staged.
The pattern is clear, but why do online communities insist on denying mass murders perpetrated by white men? Perhaps it hits too close to home. According to PolitiFact, white men, are the most likely demographic in recent history to commit mass shootings. A suspected killer of any other color would have been far more likely to get a funeral instead of a court hearing.
The first thread about the shooting on /r/The_Donald was immediately filled with conspiracy theorists claiming the shooting was staged. "Right on time" was a popular slogan before the subreddit's mods pruned the comments. One comment implied that the Democrats fabricated the shooting to draw attention away from a "bad week".
Reactions were even worse on 4chan's /pol/ board, running the gamut from claiming it part of a Jewish conspiracy to saying the shooter was actually an ardent leftist. It's impossible to tell if someone on 4chan is trolling or genuinely mad, but I wouldn't bet too much on satire when the site is infamous for child pornography and murder.
Ramos hasn't announced a motive, but perhaps the reason /r/The_Donald and /pol/ try so hard to underplay his role is because he reminds them of themselves. The 38 year old threatened various Capital Gazette staff members for years after losing a defamation case against the paper in 2012. In 2011, the Capital ran a story about Ramos' previous criminal case where he was charged with harassing a woman online for a year.
Like most members of /r/The_Donald and 4chan's /pol/, he also appeared to be a fan of Donald Trump, who has repeatedly referred to the press as the enemy of the people. Ramos warned the paper could "end badly" if it continued to refer to Donald Trump as "unqualified".
Ramos joins a series of white, male mass shooters who expressed disdain for news media, including Dylann Roof and Alek Minassian.
All three of these men are defined by what many media outlets have diplomatically referred to as "grievance". By their own admissions, they are angry because they never got what they were owed. It's easy to attribute their actions to this since it makes their behavior coherent.
In truth, they were never owed anything. What those alleged killers and the denizens of /r/The_Donald and /pol/ feel is entitlement. They were never owed sex, white supremacy, or a free license to harass women with no consequences. They simply expected them.
When /r/The_Donald and /pol/ put up smokescreens for Jarrod Ramos, they weren't just absolving him of guilt. They were also protecting themselves.